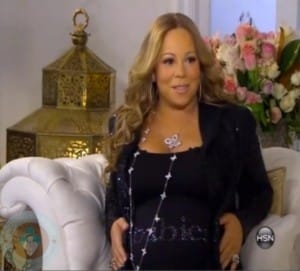 Congratulations are in order for Mariah Carey and her husband Nick Cannon. Not only is it their wedding anniversary, but they are also now the proud parents of a twins – a boy and a girl.
Mariah gave birth to the pair at 9:07am PST at an undisclosed location in Los Angeles on Saturday morning.  Names are not yet known, but the baby girl was born first weighing 5 pounds and 3 ounces. The baby boy weighed in at 5 pounds and 6 ounces.
Shortly after the babies arrival Nick tweeted,
'My wife just gave me the most incredible anniversary gift ever in life! I won't ever be able to top this!'
The babies arrival wasn't without a little excitement.  Mariah's rep told the AP that the first-time Dad was so nervous that he went to the wrong unit in the hospital, and had to be guided to the maternity ward by a nurse.
"It was right out of an I Love Lucy skit."
Today marks their third wedding anniversary. The couple married in 2008, and they planned to renew their vows this weekend to celebrate. It looks like their babies wanted to join in the celebration!
Related Articles:
---
[ad]