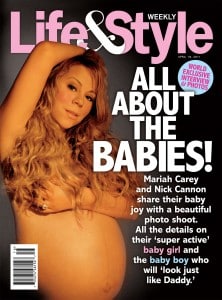 With just a few days to go before her twins arrive, Mariah proudly shows off her pregnant body on the cover of this week's Life & Style Magazine.
"I was feeling very vulnerable about taking pictures at all right now, but then I didn't want to miss this opportunity to document this once-in-a-lifetime experience," Mariah tells Life & Style. "My ultimate goal was to share this incredibly personal moment with my true fans."
The twins, a boy and girl, were ready for their close up!
"The babies were kicking almost the entire time; it was unbelievable.  Especially the girl — clearly she's a diva in training! We didn't start shooting until 1:30 a.m. because I was in the hospital from the night before until the day of the shoot with contractions five minutes apart!"
Thankfully doctors were able to get the contractions under control and she was released the next day.

Now, the couple is just enjoying their journey and Nick says he is more attracted to his wife than ever.
"I thought I couldn't love Mariah more," the dad-to-be tells the magazine "But I have a whole new appreciation and admiration for her."

Mariah adds, "Now I have so much respect for mothers everywhere, especially those who've had difficult pregnancies or given birth to multiples. We need to have Mother's Day once a week!"
Related Articles:
---
[ad]