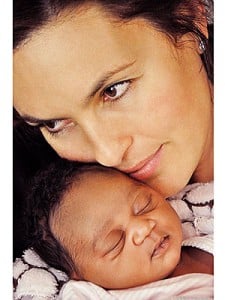 Mariska Hargitay and her husband Peter Hermann adopted daughter, Amaya, just weeks ago but she is already admitting that being a parent of two kids is a challenge like no other.
"It's a new skill to have two children that want you at the same time. Sometimes … I wanted to rip my hair out.  Where I'm like, 'August! Amaya! August! Amaya!' You don't know what to do."
At an event for her Joyful Heart Foundation recently, she shared that having two children is a whole new adventure.
"So … [it's my] first time with two-children syndrome and I'm trying to figure it all out. But so far everyone's been pretty good."
Gushing about her new baby girl:
"She is dreamy. I am not going to lie: It was very difficult leaving the house tonight. It's very difficult leaving the house anytime with my baby at home. But for this it's worth it."
Mariska needn't worry too much about leaving home, though; she says that son August, 4, is a doting big brother:
"He is so protective. He is a little bit like the gate-keeper of her. He's been really amazing … so affectionate. He says, 'I'm going to be her protector.' And something else. Teacher. Guider and protector. She gets a lot of kisses."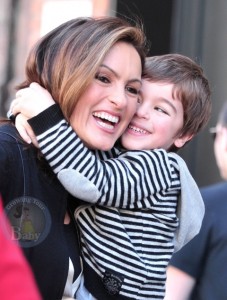 Much to the dismay of Mariska's fans, she also going to start slowly reducing her role on Law & Order SVU to find more balance in her life.
"I'm so madly in love and married to my show.  This foundation has come out of it. But it's been very difficult for me with two kids, so what I wanted this year in terms of my deal was lifestyle issues … I needed more time with my kids. So I will be working a little bit less and eventually getting a little promotion, so we are going to bring on a new detective."
Related Articles:
---
[ad]