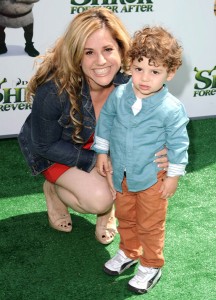 Marissa Jaret Winokur is ready to add another member to the family!
In 2003, The Talk co-host had a hysterectomy after being diagnosed with cervical cancer 3 years earlier.  Five years later she used a surrogate to bring her son, Zev Issac, into the world. He is now a happy two-year-old little boy, and the actress wants to give him a little brother or sister.
According to her People.com blog, she has gone through IVF, and has six embryos waiting for a surrogate.
"I have spent the last month doing IVF and this week I had my eggs removed!!! [My husband] Judah and I have six embryos waiting to find a womb!!! I can't believe I'm fully back in the process of trying to have a baby! I know it sounds crazy, but I can't imagine loving anyone the way I love Zev. I know he will adore having a sibling."
Earlier this year Marissa spoke out about how thankful she was for being able to use a surrogate to carry Zev,
For everybody that has a surrogate, that was their last chance. That was their last option – that was their only option. It's the most amazing, wonderful thing, but it's also a really  hard decision to make because you're trusting the most important thing to somebody. For me, that was the only way I was going to have a baby, so I was like 'I'm in, let's go.' There was no looking back.
We wish Marissa and her husband the best. Hopefully, they will find a surrogate soon, and will welcome a new baby into their family in the coming year.

Related Articles:
---
[ad]