One year ago today, Jenny and Brian Masche's lives changed forever.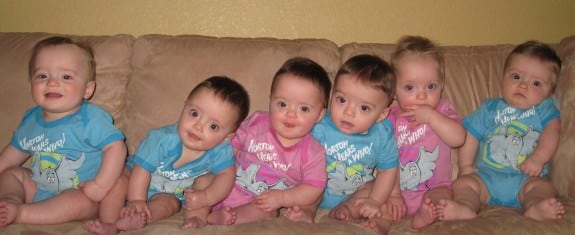 The Lake Havasu City couple welcomed sextuplets Blake, Grant and Bailey, Cole, Molli and Savannah.
Born at just 30 weeks 4 days gestation, 5 of the six babies arrived weighing less than than three pounds, with one going over the 3 pound mark.
Today, life at the Masche home is now filled with the giggles and cries of a half-dozen teething toddlers.
Jenny takes the ups and downs of mothering six kids at once in stride.
"You just don't have an option," she said. "You can hate every day or love every day. So I love every day."
Her day starts at 7am when the sextuplets start to rustle in their cribs, waking up by chattering to each other. All of the babies are in the same room, but in separate cribs.
Four of the six kids are crawling. It's normal for children to walk or attempt to walk by their first birthday, but doctors advised Jenny, as they do all parents with premature babies, to measure the progress of their children by their due date.
Even though six babies are healthy and right on schedule, Jenny knows that this is not always what happens with premature babies.
My heart really goes out to those who have gone through this and not had a healthy outcome," she said. "It's just plain hard."
While some might think that having six kids would keep the family homebound, but Jenny and Brian have not slowed down their traveling.In the last year the whole family has managed to travel to Utah, Los Angeles to film Deal or No Deal and tomorrow, the entire crew will be in New York to appear on the Today show.
A couple of the babies have been to Texas, and all also have been to California to visit Jenny's pregnant sister on a few occasions.
Jenny knows that the next stage of their lives will include eating, walking, talking and she wants it all to slow down.
"I feel like the last year has been a literal blink," she said. "My days go by so fast. You'd think I want them to go fast, but I don't."
Having such a large family isn't without its guilt. It is sometimes hard at times to be unable to tend to all of the children's needs at once.
For instance, when one is sick and wanting to snuggle all day, Jenny thinks the others may feel neglected. "If you have one child at a time, the way God designed it, you can really comfort that child and give them what they need," she said. "That's really hard for me. You just kind of feel guilty in your heart."
Look for the family on the Today Show this morning.
Related Articles:
---
[ad]