The world got to see first hand this morning what it is really like to have 6 three-year-olds when the Masche Sextuplets invaded the Today Show. Dressed in identical outfits with their first initials embroidered on their shirts, Savannah, Bailey, Grant, Cole, Molli and Blake ran all over the studio and played games as their parents attempted to promote their TV show – Raising Sextuplets.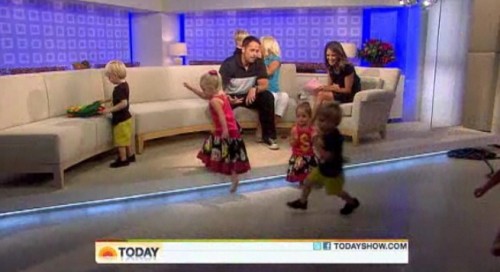 The interview, which started off crazy stayed that way for most of the 4 minutes that Jenny and Brian were to be interviewed by Natalie Morales.
During that time the couple worked to break up fights, keep the kids occupied and answer the odd question.
There is no denying it – Raising Sextuplets is a challenge!
Here is the video:
Related Articles: