Actor Matthew McConaughey was all smiles yesterday afternoon as he and his family, girlfriend Camila Alves and children Vida and Levi made their way to a birthday party in Malibu.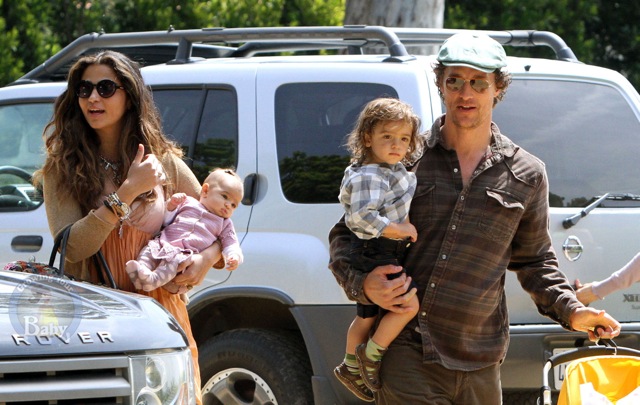 Camila recently shared some parenting advice for career-minded mommies, like herself,
"Stay as calm as you can. Life already comes with enough drama so you don't need to try to create any more. I try to keep [life] as simple as I can. I try to keep it as calm as I can. We live in a crazy world right now. It's crazy out there, it is so beautiful and it's so amazing, but at the same time it's so hectic."
In addition to remaining calm and not believing in stress, Camila also encourages moms to enjoy every stage of parenting regardless of how hectic or difficult.
"With kids, every stage they go through, it is something different and new and exciting," she says. As for her own kids, she says, "Levi's so much fun! He's just into everything. He's repeating everything … putting words together. He's actually having a conversation….and that's really cool."
Matthew pushes a Yellow Bugaboo Bee Stroller.
Related Articles:
{FAME & SPLASH}
---
[ad]