Jennifer Lopez's Twins, Max and Emme Anthony were photographed having fun at Kings Park in Perth feeding the ducks and playing with their grandmother Guadalupe.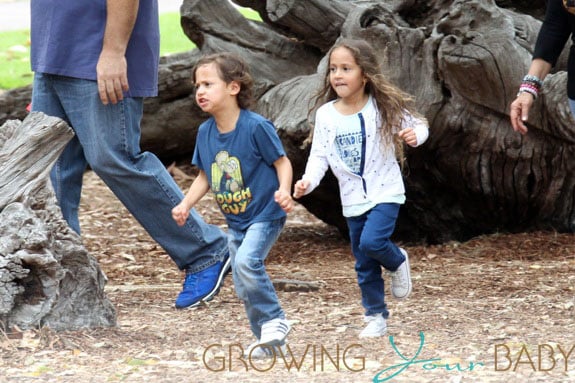 Max and Emme have been on a whirlwind trip around the world over the last few months as they accompanied their mom on her Dance Again tour.
Now in the home stretch, Jennifer has been on the road since the end of September visiting 30 countries in the last three months. The singer doesn't like to have nannies look after her kids so brought her cousin Tiana Rios and mom Lupe along to help take care of them.
"My mom was a teacher for 20 years — first grade, kindergarten and phys ed, and so my mom gives them a lesson every day," Jennifer told Hollywoodlife.com.
In each city the family all stays in a big suite at every hotel which is 'strewn with toys and Nickelodeon on the TV'.
"They're on our schedule — so they go to sleep late after the show, and they sleep late," the singer shared. "They have to have 10 hours of sleep every night — that critical to prevent crankiness. When they get up, they have breakfast, and then they go in with my mom for their lesson."
Jennifer may be a pampered star, but a tour member revealed that she's the one giving Max and Emme their baths, reading to them and eating meals with them.
"She makes every effort to make a normal life for the kids. She's totally hands on," a tour member told Bonnie Fuller
Shortly after the park visit the family headed to the airport, where they travelled to the Adelaide for last night's show.  The singer will move on to Melbourne for two shows before ending the tour off in Brisbane next Tuesday night.
---
{INFPHOTO.COM}
---
[ad]