Maya Rudolph was photographed out promoting her new movie Bridesmaids in New York City yesterday.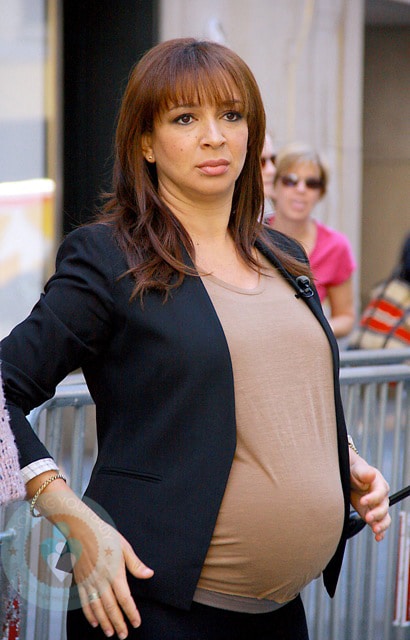 The mom-to-be was joined by her co-star and fellow 'SNL' cast member Kristin Wiig to dish on the movie and if course, her pregnancy.
The actress, who expects her third child with her longtime partner, "Magnolia" writer/director Paul Thomas Anderson, told Access Hollywood she's thrilled about their impending latest arrival.
"I'm excited.  The exciting part is not knowing who's coming. You have to wait nine months for a surprise, but then it's a good payoff because it really is a surprise."

"The sonograms don't help, because you always try to see the baby's face, and my babies usually do this in all their ultrasounds," she continued, while crossing her arms in front of her face with a laugh.
This past weekend Maya guest starred on SNL with 30 Rock star and fellow alum Tina Fey. The pair opened the show with a song devoted to their soon-to-be-born children.
While it started off sweet, it quickly segued into a raunchy ode to procreation:
"You are the proof that we've been doin' it….makin' super sexy heat…your mom and daddy been doin' it!" Mid-duet, the two even had a faux sonogram while each fetus, played by Keenan Thompson and Kristen Wiig, sang along in utero.
Over the last couple months Maya has been mum on her pregnancy so it's nice to see she's having fun with it as she heads into the home stretch.
---
Related Articles:
{WENN & INFphoto.com}
SOURCE
---
[ad}