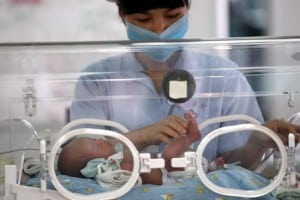 In a shocking incident in China, four medics have been suspended after it was found that they put a baby in a plastic bag mistaken to be stillborn and then left him in the hospital bath room. If not for the baby's aunt, the baby could have easily suffocated and died due to the careless act.
Liu Dongmei, the baby's mother recalls how after giving birth she was told by nurses at Nanhai Red Cross Hospital in Foshan city of Guangdong province in China, that her baby was stillborn. The mistake was only noticed 30 minutes later, when the baby's aunt found him still moving.
Pan Yongtong, executive deputy director of Nanhai district's bureau of health, population and family planning condemned the incident and said that the hospital had not followed its operational rules.
"They (the four staff members) must bear the responsibility," he said.
Huang Lichuan, director of gynecology and obstetrics at the hospital added, "The hospital is now doing what it can to help treat the premature baby and actively coordinate with the family of the victim for compensation."
23 year old Liu was seven months pregnant when she came to the hospital with her husband Wang Haizhang on October 23. She had acute stomach pain and was hospitalized and placed on bedrest. Three days later she went into labor.
"Although my husband told the doctor on duty several times between 3 am and 5 am that I had suffered a hemorrhage and was ready to deliver, the doctor came to the ward just minutes before I delivered," Liu said.
Believing that the baby would be stillborn,  doctors instructed two nurses to finish the delivery and left.
The premature baby was not crying and therefore Liu accepted that she had a stillborn baby. The nurses wrapped the baby in a yellow plastic bag and kept him in a nearby bathroom.
It was only by chance that Liu's sister-in-law Wang Heping came and asked to see the body of the newborn. To her utter amazement, the baby inside the plastic bag was moving.
Staff members immediately transferred the baby to the hospital's intensive care unit.
The new mother also noted another point that the medics had casually overlooked.
"After the delivery, the nurses told me the baby was a girl – but I actually had a son."
She added, "He weighed only 1.9 kilograms and was 45 cm long when he was born, but after a week's treatment in intensive care, he's in a good condition."
Hao Hu, a senior pediatrician at No 6 Hospital Affiliated to Sun Yat-sen University questioned why the doctors did not check the baby's pulse or eyes, even if he was not crying.
"Even if a newborn infant is not breathing, medics should spend 15 to 30 minutes attempting to resuscitate it before certifying it as being dead," he said.
Liu and her husband are both migrant workers and have demanded a compensation of 300,000 yuan ($47,000) for the cost of transferring their child to another hospital. They have so far been offered 8,000 yuan in compensation by the hospital.
"Family members of the victim can certainly ask for compensation if the baby is detected to have brain damage or any other disease in the future," Dai Guoliang, an attorney at Bangnan Law Firm, said."Those found guilty of medical malpractice face up to three years in prison, according to Chinese laws and regulations."
While it is common to hear stories of doctors going out of the way to save a baby's life, such tragic incidents only tarnish the image of the noble profession.
Related Articles:
---
[ad]