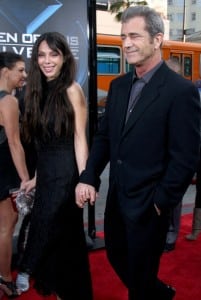 Just a month after debuting his girlfriend Oksana Grigorieva to the world, actor Mel Gibson has confirmed they are expecting a baby.
The Australian actor, who is in the middle of a multi-million dollar divorce from his estranged wife Robyn, confirmed rumours of the pregnancy during an interview on The Tonight Show with Jay Leno last night.
"This is true," the star said after Jay asked him to confirm the speculation that his new partner was pregnant.
The new baby will make 8 for the busy dad who already has seven children with Robyn, aged 10 to 26.
He then joked: "I guess I'm Octo-Mel." The actor gave away few details of his new baby, replying jokingly, "A human being, I think," when Leno asked about the baby's gender.
It is believed the mom-to-be, a Russian musician, is in her second trimester and the baby is due this fall.
The child will be the second for Oksana, who has a teenage son with British actor Timothy Dalton.
Robyn Gibson filed for divorce from her husband of 28 years last month, citing irreconcilable differences. She is expected to be awarded half of Gibson's estimated $US900 million (£605 million) fortune.
Last night Gibson talked about the breakdown of his marriage, telling Leno: "I did a pretty good hatchet job on my marriage."
The classy guy also revealed that he doesn't plan to marry his baby mama saying,
"Who would do it twice?"
PHOTOCREDIT:WENN
---
[ad]