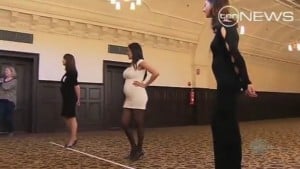 Melbourne Spring Fashion Week is gearing up to have a new look this year.  This is the first year the city has invited pregnant women to participate in the model casting.
The city will cast as many as eight new models, to take part in promotions during Melbourne Spring Fashion Week, with the hope that they can start to adjust fashion images toward a more varied projection of the human body.  In doing so, they hope to promote healthy body image to young people.
In addition to moms-to-be, the model hopefuls include plus-size women, students, a few men and a 36-year-old woman who is in the process of undergoing treatment for cancer.
At 30-weeks-pregnant, Amber Beard was prompted to attend the try-outs by her partner, Matt.
"It's great to celebrate the fact we are pregnant and you can still look gorgeous and feel healthy as well," Amber says.
Matt Anderson sits on the selection panel.  He hopes that presenting a variety of body types will make Fashion Week more accessible to a greater cross-section of the public.
"The fashion industry gets a certain amount of criticism because people might say it's not divers enough," Matt says.
In defence of the industry, he says, "We have certain parameters we have to work in, the stuff we're usually showing are sample sizes of what's to come, but with Melbourne Spring Fashion Week we have the unique opportunity to be a lot broader."
Melbourne Spring Fashion Week starts on September 5th.  It will be interesting to see the impact the new models will have. – Jen R, Staff Writer
Related Articles:
---
[ad]