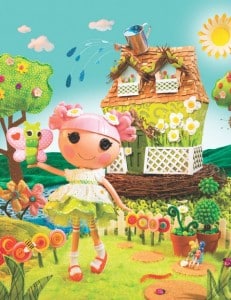 The hottest toy that couldn't be found last Christmas was MGA Entertainment's sweet collection of Lalaloopsy dolls.
Hailed as 2010's "hottest toy of the season," (CBS The Early Show), "the year's Tickle Me Elmo," (MSNBC) and described as "creating Cabbage Patch-like hysteria among Holiday shoppers," (New York Post), Lalaloopsy™ takes girls on a magical journey to a whimsical world of imagination. A unique collection of 13"dolls that magically came to life when their very last stitch was sewn, each Lalaloopsy™ was born on a special national holiday and has her own personality developed by the fabrics used to make her. Designed to encourage a child's imagination and creativity, Lalaloopsy™ teaches important life lessons such as diversity, individuality and the idea that everything can be recycled and nothing should ever go to waste.
New for Spring, MGA is introducing 3 new characters including a little boy!
Patch Treasurechest™ – Sewn on Date: Sept. 19, "Talk Like a Pirate Day!" The very first 'boy' Lalaloopsy™, Patch Treasurechest™ was made from a real pirate's clothes. He's a clutterbug, who loves to collect shiny things. He also likes to travel, but he has trouble following maps. He has a pet parrot.
Blossom Flowerpot™ – Sewn on Date: April 22, Earth Day! Blossom Flowerpot™ was made from a pair of gardener's gloves. She's super-patient and caring, always cheerful, and loves to dig around in the dirt. She has a pet butterfly.
Tippy Tumblelina™ – Sewn on Date: 2/2, the only date pronounced Tutu! Tippy Tumblelina™ was made from a ballerina's tutu. She's a girly girl, who loves being on stage…even though she falls off it every once in awhile. She has a pet swan.
In addition, MGA Entertainment is currently in development for the first-ever Lalaloopsy™ feature length movie. This made-for-DVD feature will be released in spring 2012 and will star the original Lalaloopsy™ characters.
Visit the colorful 3D world of Lalaloopsy™ at www.lalaloopsy.com where Lalaloopsy™ magic is everywhere!
---
---
[ad]