Michael Buble, and his wife, Luisana Lopilato have welcomed their first child – a BOY!
Michael announced the baby's arrival on Twitter.
"Overjoyed and filled with gratitude at the arrival of our son, Noah Buble. Born this morning, August 27th at 2:26 a.m. in Vancouver, Canada."
Along with the tweet, the singer shared a photo of the happy family. His wife, Argentinian born model and actress, looked as vibrant and radiant as ever, smiling straight into the camera with baby Noah lying across her chest. The new father, married to Luisana since March of 2009, also looked into the camera. Wearing a blue hospital cap and gown, he looked a more exhausted than his wife during in the early morning hour photo.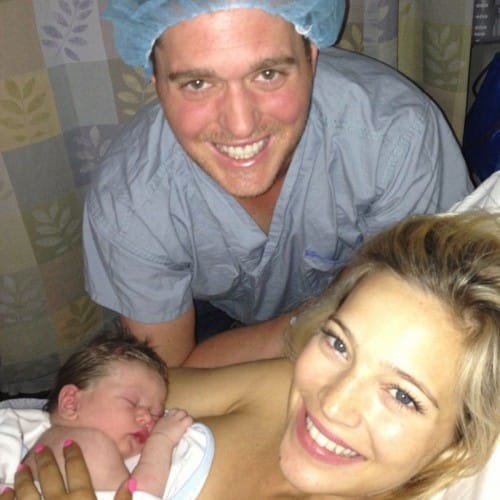 Michael and Luisana have been very open about the pregnancy and moments leading up to the birth of their very first child. The couple originally announced that they were expecting back in January, sharing a video message, complete with ultrasound.
With Noah's birth date encroaching, the Grammy-winning father cancelled his show appearance on Today. But he did share some news about the upcoming birth with Today in an off-site appearance on August 7th.
"It's a boy, and he's due at any moment. Literally any moment," Michael had told USA Today from the CBC, which was just 50 minutes away from his home. "If she goes into labor at any point, I'm there. I really didn't want to go far."
Part of his apprehension over going too far from his expectant wife had to do with the fact that Luisana had already gone into labor just days before the interview.
"We had a false alarm a couple days ago," he said. "She had about seven hours of labor, so we know that it could happen at any time."
Just a little less than three weeks later Michael and Lusiana are first time parents.  Congratulations, to happy couple on the birth of their beautiful baby Noah!
---