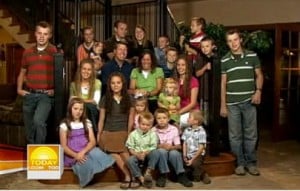 TMZ is reporting that Michelle Duggar gave birth to baby #19 last night after she was rushed to the operating room for an emergency.
A rep from TLC who told them,
"Michelle, who has been in the hospital recovering from a gallstone, was taken to the OR for an emergency c-section."
At 6:27 PM last night, Michelle and Jim Bob welcomed their new daughter, Josie Brooklyn. who weighed in at 1lb., 6 oz.

Michelle is now resting comfortably and the baby is "stable" — although she's in the neonatal intensive-care unit at the University of Arkansas for Medical Sciences.

The rep added,
"The most important thing right now is for Mom and baby Josie to get as much rest as possible. The family is grateful for all the prayers and well wishes during their recovery."
Our thoughts and prayers go out to the Duggars. My son was born weighing just 1 ounce more than Josie 4 years ago. It was a very scary time for us. They will need lots of positive support.
Related Articles:
---