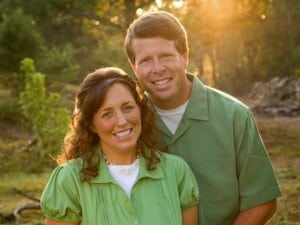 Sad news from this evening.  People.com is reporting that Michelle Duggar has learned that she miscarried her 20th child in her second trimester.
While at a routine check-up today to find out the sex of the baby, their doctor was unable to find a heartbeat and told the couple they had lost the baby.
"After the appointment, we came back home and told the children," says Michelle, 45.

"We had just been talking about baby names last night and they were getting excited about naming a boy or a girl. It has been a real sad disappointment."
She says the family will select a name after they know if the baby was a boy or girl, and then plan to have a funeral service.
"I feel like my heart broke telling my children," says Michelle. "They have all been so excited about this baby and looking forward to April coming around and having a new little one in our arms. That was the most difficult. The Lord is the giver of life and he can choose when that life is ready to go on and be with Him."
In December 2009 the couple welcomed their last child Josie, at 24 weeks.
During a trip to the Today Show this Summer Michelle had shared that she thought that because this was the longest that she had gone between pregnancies and that she thought her days of expecting may be over.
We wish the family well.  They are really sweet people who raise great kids.
Related Articles:
---
[ad]