If there is one thing for sure – Kateri Schwandt, 42, is outnumber at her house.  Those odds were just increased after the Michigan mom welcomed her 14th child this week.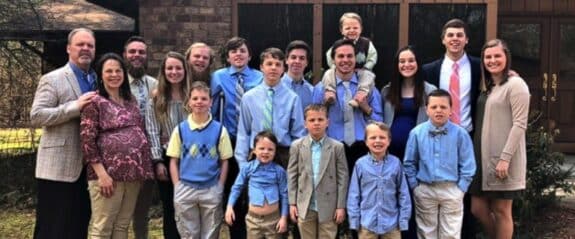 Parents to 14 sons, ranging in age from 25 years to 2 days, Kateri and husband Jay did not know the new baby's gender prior to the birth.  Jay says the couple has never known the sex of their baby ahead of time – "That's like opening your Christmas presents on Thanksgiving."
Each time, however, it has been a boy.
Their new baby boy arrived 5 days early weighing 8 pounds, 4 ounces – measuring 21 inches long.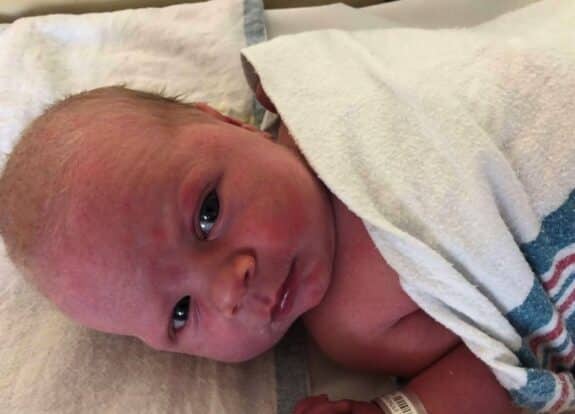 This will likely be the couple's last pregnancy.  "We really savored this one," Jay told ABCNews, "Every little kick, every moment felt special."
The 13 older brothers were "pretty split" on whether they wanted to have another brother or a sister this time around.
Jay and Kateri don't have a definite name for the baby but they've narrowed it down.
"After 13 boys, we've really had to start getting creative," Jay said.  As with all of their kids, the name is decided by a vote of the older boys, all of which were on their way home to meet their little brother.
The Schwandts still have 11 boys at home. Kateri , he says,  is the "glue that holds the family together. She's an awesome mom."
And now that 5 of her boys are dating there are girls around.
The couple has often said they were "destined" to have the family they do. Kateri herself is one of 14 kids – seven boys and seven girls.
When they were pregnant with their 13th child,  a genetics counselor calculated the chance of giving birth to 12 sons in a row at .02 percent. Were guessing they're at .01 now.