A Michigan couple has continued their blue streak with the arrival of their 13th child!
According to husband Jay, Kateri Schwandt, 40, welcomed their 13th child on Wednesday, four days past her due date.  And despite the fact that the couple was ready to make the switch to pink, the new addition arrived in the blue – the same way her 12 other children did!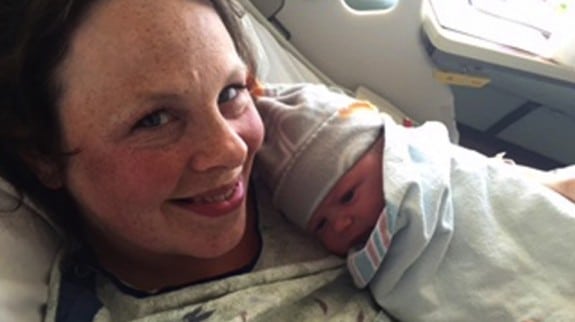 The new dad told ABC News that the baby weighed about 9 pounds, and was 22 inches long.
During an interview last week Jay revealed that his wife was "pulling for another boy because that's in her comfort zone."
Now parents to 13 of them, the couple is thrilled and are working on a name for their little guy.
The new baby joins Tyler, 22, Zach, 19, Drew, 18, Brandon, 16, Tommy, 13, Vinnie, 12, Calvin, 10, Gabe, 8, Wesley, 6, Charlie, 5, Luke, 3, and Tucker.
Congratulations to the family.  We can't wait to hear what they name him!
---
[ad]