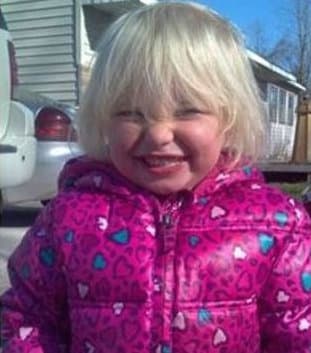 A Michigan family is giving thanks to the State Police Canine Unit and the many volunteers that worked tirelessly to help find their two-year-old daughter after she went missing from their home earlier this week.
Police say that Brooklyn Lynn Lilly wandered away from the family home at 2pm on Wednesday.  The cold and rain turned roads and terrain into muddy soup, but authorities combed the countryside on foot and on ATVs. The weather prevented police from using their Aviation Unit on Thursday, but officers still searched the area along with the help of the canine unit.
To avoid contaminating the scene, police also asked local citizens not to aid in the search.  But despite this some still gathered in the surrounding areas to lend their assistance.
Kate Anschuetz, manager at the Iosco County Historical Museum, told Mlive.com the community's response was amazing.
"What a great community we have," she said. "Everyone has been so concerned and wanted to do something to help. It became such a happy day when we saw that cute little face poking out of the blanket."
That big moment happened at 11am, almost 22 hours after she disappeared,  when Trooper Denis McGuckin and his K-9, Jax, found Brooklyn.  At first he said she wasn't moving, but then "She had lifted her head up off the ground and looked back towards me and my dog and began smiling," McGuckin said.
Aside from being dirty and having a small cut on her face, the toddler was in good spirits.  Tawas City Assistant Fire Chief Jeffery Seyfried captured the first photo of Brooklyn after she was found.
"It was a rough night, but the moment that she was found was something special," Seyfried told Mlive.com. "She was bundled up in her jacket and when the team walked up to her, she started giggling. She actually told one of the guys that she loved it in the woods."
Shortly after Brooklyn was reunited with her mother, Tricia Cook, and stepfather, Alex Cook, she taken to a local hospital for a full check-up.
---
[ad]