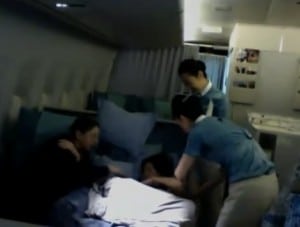 Vicki Penwell, a former midwife, has delivered more than 2,5000 babies in her life. The latest baby came in a different way, aboard a trans-Pacific flight 37,000 feet in the air.
Vicky and her husband were on a flight headed to Manila to open a new maternity clinic there to help pregnant women. In the middle of the flight, however, she noticed a woman in pain being helped by a flight attendant. With her years of experience as a midwife, she knew immediately what was wrong with the pregnant woman.
"My subconscious brain immediately recognized the unique type of squirming and sideways twisting that I had seen thousands of times, but my conscious brain said 'no, people don't go into labor on airplanes except in the movies,'" she said.
The pregnant woman was moved to first class where she could get more comfortable during her labor. Luckily, Vicky was on the flight at the time as the only other medical provider on board was a cardiologist who had no experience with childbirth. Though the crew was reluctant to let a midwife care for the woman rather than a medical doctor, Vicky's experience and training was more than enough to assure the cardiologist.
"The steward in charge came up and demanded some medical ID from me, which Scott produced out of my handbag. It was pretty obvious the word 'midwife' did not register with them. They were scared, understandably; they called on the intercom for any other medical assistance, and a Korean cardiologist came forward. However, since delivering babies was not in his scope of practice, he deferred to me and seemed very relieved at my answers to all his questions; had I done this before, because he had not … 'yes' I said, 'over 2,500 deliveries' … 'Did I know how to resuscitate a baby?' … 'yes, I am trained in neonatal resuscitation' … 'did I know how to stop bleeding if she hemorrhaged?' … 'yes', … and on and on.'"
The woman was not due to give birth until January, making the baby 6 weeks early. Vicky gathered blankets to keep the infant warm, as well as the few medical supplies kept on board the plane to help with any emergencies that could have happened. The airplane was equipped to deal with heart attacks, however there were few things on board meant to deal with childbirth.
The baby came four hours before the plane touched down. Despite being early, the baby was healthy and began nursing immediately. Vicky and her husband stayed with the new mother and child for the remainder of the flight. The pair were transferred to a local hospital by ambulance after the plane landed.
"The really interesting thing is, a few days ago I was wondering why we had decided to leave the states a week before Thanksgiving holiday, and was pondering if we had made a mistake. Now I see that God had a plan that I was to be on that particular airplane on that night … nothing happens by chance when our lives are totally given over to God to be used for His good purposes in the world. In mysterious ways, He leads and directs our every step, and puts us in position to be helpful to those in need."
– Summer, staff writer
Related Articles:
---