For the first time since revealing she was expecting her first child, Mila Kunis hit the red carpet at the Warner Bros. Pictures Presentation held at the Colosseum at Caesars Palace in Las Vegas.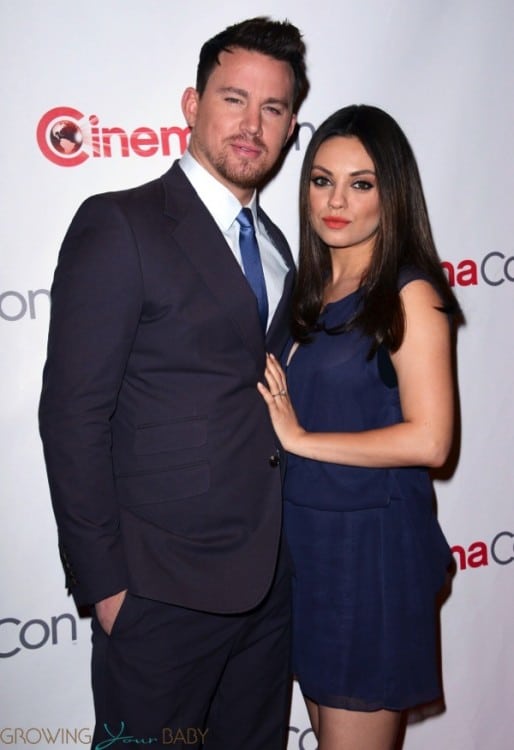 Mila and her Jupiter Ascending co-star Channing Tatum posed for photos before presenting the movie to a room full of movie theater owners.
The mama-to-be was beautiful in a navy belted Acne Studios dress, which she paired with Yves Saint Laurent heels. Even though she stayed close to Channing while on the red carpet, a slightly rounded belly could be seen under her dress.
Just a month after she and Ashton Kutcher announced they were getting married, it was revealed their were expecting.
Mum on all of her new life plans, Mila joked that the ring on her hand may have been given to her by Channing.
"Am I engaged to Channing? Channing and I love each other," Kunis said, smiling.
Channing, who is married to Jenna Dewan, with a baby, played along: "Yeah, we're not engaged yet, just yet."
"We're getting in that direction though. You know, he has to meet my parents," Mila said. "That hasn't happened. But one day."

"Yeah, step by step, day by day. I haven't met the crazy Russian family yet," Channing quipped. "I'm going to bring a lot of vodka though."
Mila added, "Yes, and cognac — both. … They like both. They're not picky."
2014 is going to big year for the actress!  We look forward to seeing her back on the red carpet on July 18th when Jupiter Ascending hits the big screen.
{WENN}
---
[ad]