Mini Rodini brings playful, animal-inspired flair to your little one's wardrobe with wild, jungle-themed prints and fun, fresh designs that were created with sustainability in mind.
Blending Earth-conscious work ethics and truly unique, funky designs, Mini Rodini sets itself apart in the children's fashion world by making sustainability more than just a statement. It's a priority.

The label uses everything from organic cottons to recycled polyesters to create its clothing, while utilizing methods and choosing materials that reduce its impact on the environment. Not only do these practices reduce the label's carbon footprint, they also encourage good health for both consumers and the workers who create the clothes.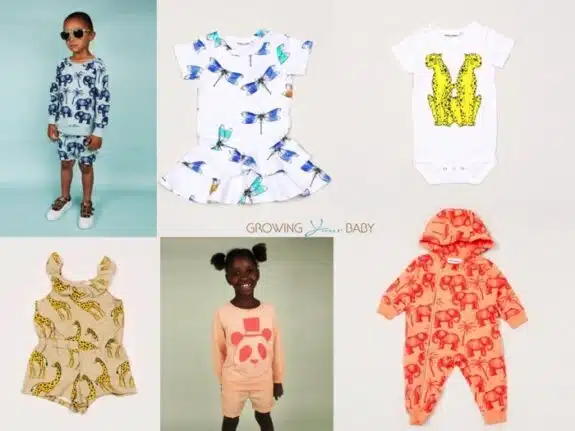 We can't get enough of the "Mini Zoologist" collection. It's absolutely adorable! This collection combines tiger prints, fun yellow and white stripes, and a variety of animal prints, including snake, Toucan, and iguana prints to create ensembles with some serious attitude!

Mini Rodini is one of Scandinavia's fastest growing children's wear brands and was founded by the Swedish illustrator, Cassandra Rhodin. Inspiration for the line came from many sources, including Rhodin's great grandfather. A picture of him, which was signed "Rodini" on the back, spawned the name of the brand. Along with this picture, Rhodin was inspired by her great grandfather's colorful history with the family circus. It's no wonder that "Mini Rodini" is a homage to Rhodin's great grandfather and his heritage!
Mini Rodini designs are just as fun as the brand's name implies—spunky, bold, and colorful. This is one label not to be missed!
---