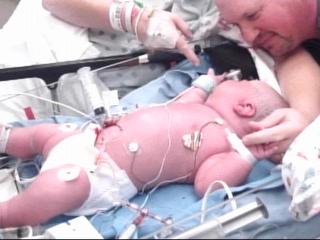 When she was eight months along, a doctor warned Wendi Dolton her baby was going to exceed ten pounds. But nothing could prepare her for the big bundle of joy that arrived last week.
"They said 15.6 and I thought I was kind of groggy I was on pain killers, I didn't know if it was 15.6 the time," said Dolton.
Wendi and her husband Mike, from Racine, Minn., named their baby Axel Laverne.
"I had some clothes ready for him, and yep, he's outgrown them already," said Dolton. "And my family bought clothes and they won't fit him."
Axel arrived by C-section, at 37 weeks and now he is in neo-natal intensive care, being monitored for a heart condition associated with premature births.

His parents say he's doing well and they hope to take him home to his sisters in a few days.
There has been no mention of gestational diabetes, but I bet it had something to do with this baby's weight.

While it seems hefty, Axel's fifteen pounds six ounce arrival is well shy of the largest newborn ever. The Guinness Book of World Records says that title belongs to a baby born in 1879, that weighed in at 23 pounds, 12 ounces.
Related Articles:
---