For Liz Mitchell, the day that altered every facet of her life had started out just like any other; she was out on her balcony, playing with her dog, when she leaned back too far and fell between the guard rails.
Liz hit the ground and landed on her head.
After spending five days in a medically induced coma, Liz woke up with a breathing tube down her throat. She'd fractured her C6 and C7 vertebrae and had been declared quadriplegic.
"I went from a 32-year-old woman that was healthy, having a boyfriend who really never saw me with a hair out of place…to lying in bed in a diaper," Liz told ABC News.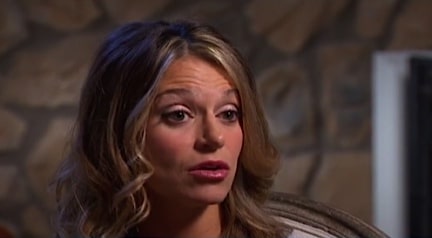 Her boyfriend, Bryan, was the one to break the news.
"He didn't just say, 'You're paralyzed; you can't walk,'" Liz said. "He specifically said, 'One day, we'll move to Waco, we'll get married, and we'll have a beautiful life. And it does not matter if you are in a wheelchair.'"
"Whatever God is going to allow you to get back, we're going to maximize that," Bryan Mitchell said, recounting what he'd told Liz to ABC News.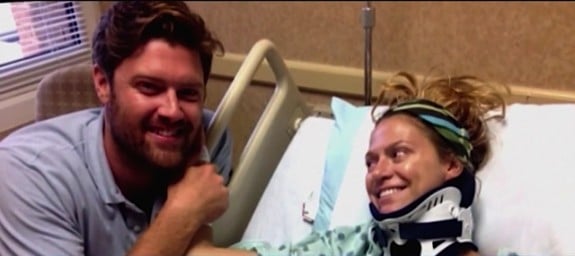 Bryan meant every word.
Liz was moved to the Baylor Institute for Rehabilitation where she could learn how to be independent in a wheelchair, and every day, Brian would encourage her to do more.
"Every day that I was there, Bryan would pull the sheets off of me and say, 'Try to wiggle your toes," Liz said.
But as Bryan and her family searched for hope, Liz searched for herself.
"Before, I seemingly had everything. I was successful and healthy, and from an outsider, it looked like I had everything," she said. "But I wasn't grateful, I never said 'thank you.' One day, you wake up and you have a breathing tube in and you can't move a muscle…you realize the body that you thought was so important and defined who you were is useless."
And then, one night, Liz hit her rock bottom.
"It crushed me," Bryan said. "It was really defeating, and I lowered my head and I said a prayer. It was the most heartfelt prayer I've ever said."
Then, on August 29th, at 9:30 in the morning, Bryan pushed again, asking her to wiggle her legs.
And it worked.
"I'm moving my legs!" Liz cried.
"It was the most miraculous moment I've ever experienced in my entire life," Bryan said.
From that moment forward, it was full steam ahead. Liz went from the pool, to the treadmill, and then to a bike. Then she walked with a walker, and then on her own, and then up a set of stairs. And the entire time, Bryan was there, a constant voice, encouraging her, rooting her on.
"The relationship you develop going through a story like that and seeing the person she became in the darkest depth of her struggle…I knew I didn't just like this girl, I loved this girl," Bryan said.
And, little by little, those steps carried Liz out of the rehab and then down the aisle.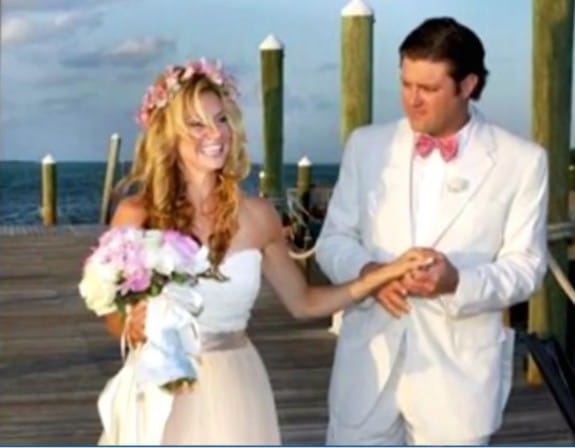 But she still had one more miracle to pull off…a baby.
"We cried; I was in total shock, but I was scared, too, about whether or not my body could handle a pregnancy," Liz said.
The shock could be explained by the fact that Liz's reproductive system hadn't been working up to that point. The fear comes from a filter that was placed in her abdomen to catch blood clots from when they thought she'd never be able to walk again, as well as some additional dangers that could take place without her knowledge since she can't feel pain or temperature from the neck down.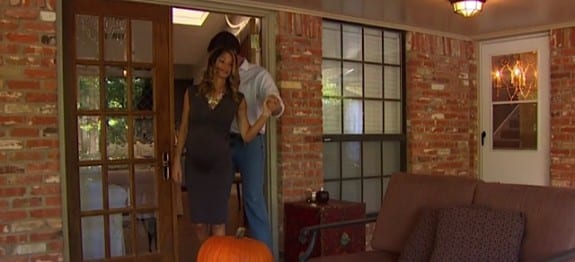 "Initially, my doctor said, 'I'm not sure you'll feel contractions or fetal movements so we need to monitor you closely,'" Liz said. "But one day, I felt her kick and there was no mistaking that feeling."
"The transformation Liz made in the rehab center physically paled in comparison to the transformation she made emotionally and spiritually," Bryan said.
Now, the couple prays together, and they've even chose a fitting name for their daughter – Dorothy Marie, which literally means "gift of God."
"I cannot believe it…it is such a miracle," Liz said. "It seems like a dream, but I'm ready."
Related Articles:
---
[ad]