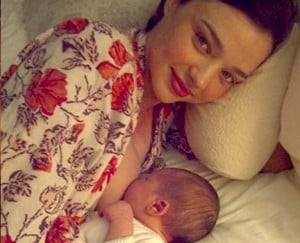 Miranda Kerr and her husband Orlando Bloom are ready to share their new arrival with the world. The model gave birth to their first child, Flynn, on January 6th.
Not many details were released about the arrival at that time. In fact, the couple only recently decided on a name for their son.
Today the new mom shared the intimate details of the baby's birth on her own site, Kora Organics. The post included a photo of the Victoria Secret Model and baby Flynn taken by Orlando Bloom himself.
"On the 6th of January I gave birth to our beautiful little son Flynn. He weighed 9lb 12 ounces (a very healthy and big baby boy). I gave birth to him naturally; without any pain medication and it was a long, arduous and difficult labour, but Orlando was with me the whole time supporting and guiding me through it. I could not have done it without him. We are so happy and are enjoying our time together as a family. He is our little ray of sunshine."
What a sweet picture. Miranda looks very happy!
Orlando is rumored to be reprising his role of Legolas in The Hobbit, the prequel to the Lord of the Rings Trilogy. No word yet on when Miranda Kerr will return to modeling, but she was still working well into her pregnancy.
Related Articles: