UPDATE: Mindy McCready has been in touch with Access Hollywood.   She says that despite reports, she and her 5-year-old son are not missing.
"I am working with lawyers to try to get all this straightened out," she told Access Hollywood in an e-mail on Wednesday. "I did not steal my child, as it would be impossible for me to kidnap what already belongs to me! There never was any missing persons report and never an Amber Alert."
People Magazine is reporting that the singer is 5 months pregnant with twins by an unknown father.
ORIGINAL POST: A missing persons report has been filed for Mindy McCready and her son Zander.   Authorities believe that the former country music star fled Southwest Florida with her five-year-old son Tuesday – even though she currently doesn't have legal custody.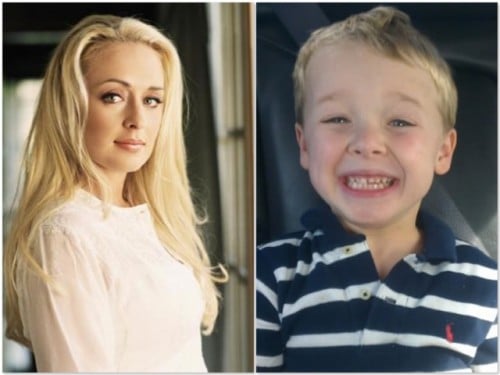 NBC2 is reporting that a case worker from the Children's Network made an unannounced visit to the Cape Coral home of Mindy's father on Tuesday to find the little boy not home.
Mindy's father told the worker that Mindy had been there earlier in the day and took off with Zander.
The custody of the little boy has been long battled over in court.  There have been dozens of hearings, which resulted in Mindy's mother be awarded legal custody of Zander.  She is currently raising him, with the help of her husband.
Along with Mindy and the child's father, Zander is also allowed to visit his grandfather, Mindys father, which is where he was Tuesday morning.
In an emergency hearing late Tuesday, a judge ruled that the singer has until 5 p.m. Thursday to return the child to authorities or face arrest.

If she surrenders the boy, another hearing is likely to be held on Friday to address her visitation rights.
The 36-year-old singer's troubled life has been filled with domestic abuse, drug and drunk driving arrests and a suicide attempt.  Last year she appeared on Celebrity Rehab with Dr. Drew where she spoke about getting clean to be a better mother to her son.
An Amber Alert hasn't been issued because the boy is with his mom.
---
[ad]