As smaller living spaces become more the norm we are seeing companies really take baby gear design to the next level by creating products that function as many pieces as opposed to just one or two.
Danish company Evomove believes that good furniture is the foundation of  'many nice hours together as a family' – a basis they used when conceiving their new Nomi chair.
This one piece, they say, will grow with your child from infancy to the teenage years while seamlessly fitting into your home's decor.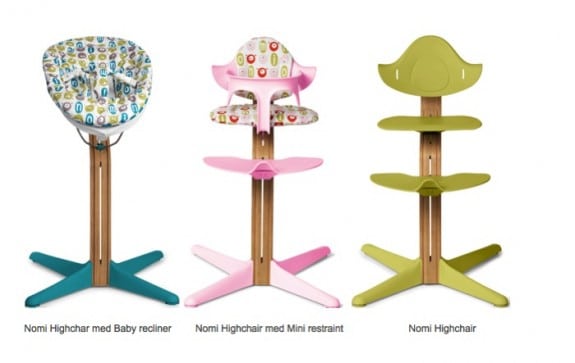 For newborns, the Nomi Baby recliner, keeps your child at eye level so that both you and your child can keep up with what's happening.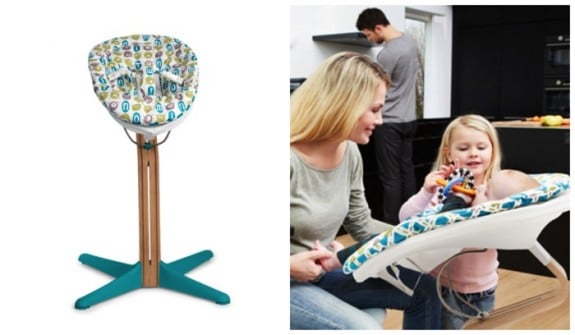 The Baby recliner can be adjusted to different angles. From an almost horizontal position when the baby is small, to a more upright one when your child can follow a more of life around the dining table. The chair's design allows it to tilt easily while your baby's head remains stable. The soft fabric and the recliner's seat design provides the perfect match, and provides your child good support and comfort while lying down.
As your child grows the seat can be transformed into the Nomi Mini to allow them to be positioned right up to the table. The Mini restraint provides not only security, but it also supports a child all the way around so they can learn to eat independently.  Plus, the company offers modern, fun seat pads to provide additional comfort and style to the chair.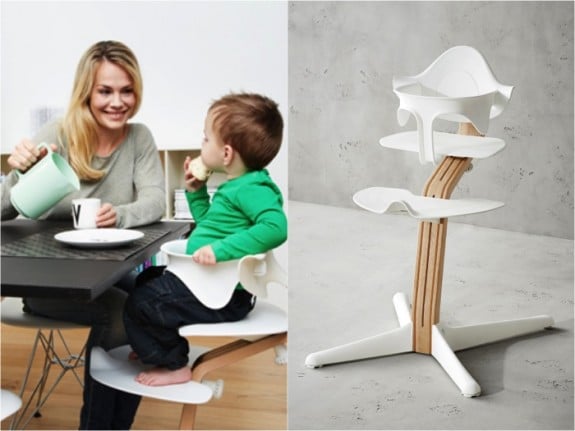 When you child is two-years-old the High Chair's backrest can be removed to once again transform the chair into a seat they can use at the table, at a desk or anywhere in the house.  Two handles on the back make the seat a cinch to adjust for children of all sizes.
Often we buy gear that works for a small period of time, and then collects dust waiting for a time when it is appropriate for a second child.  I like that Evomove has created a product that will live on for years to come, but that can also converted back if a you have little visitors.
 Please visit Evomove's website for more details.
---
[ad]