A pregnant Molly Sims was spotted headed to her car after eating out at the Farm in LA on Friday (February 17).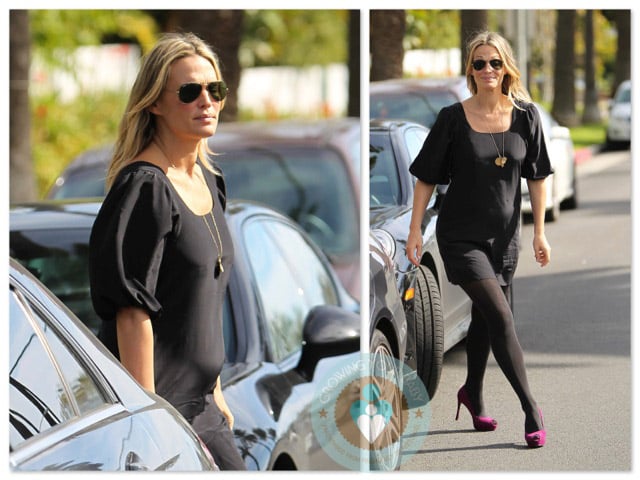 It seems fitting that she was spotted out having lunch as much of her pregnancy lately has revolved around cravings.
She blogged earlier this week that her cravings have been getting crazy.
I just can't get enough of those pancakes at Axe on Abbot Kinney. Oh, those pancakes! I've also been itching for an Umami Burger for days. The weird thing is that I've never even had one before! And then there was that time a few weeks ago when I was in the car and had the sudden urge to pull over and eat a steak—so I did. Plus, I've been consuming more Kraft Easy Mac than I had previously eaten in my entire lifetime and lots and lots of fruit—especially mango. Frozen yogurt is another big one. I thought I loved it before, but now I'd swear I've died and gone to heaven whenever I taste that brownie batter flavor from Yogurt Land.
Despite her need to eat, Molly is looking fabulous.  Today she stepped out in a black tunic, matching tights and gorgeous raspberry pumps.
Related Articles:
{SPLASH}