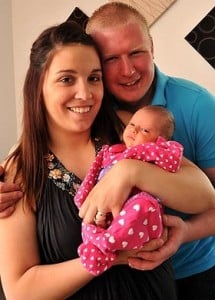 Mama knows best, it has been said and in the case of baby Bella-Mae, the statement proved to be absolutely true when her mother refused to terminate her pregnancy despite doctors telling her that her baby had died in utero.
Sophia Taylor was already a mother to three girls, six year old Saffron, three year old Mia and two years old Sia when she was expecting her fourth child. She went for her regular scan at Brighton's Royal Sussex County Hospital when the medics said that she had had a miscarriage.
Sophia recalls, "They said, 'You have had a miscarriage and your baby has died'. They told me to get rid of the baby – but after three children, I knew what being pregnant felt like."
The scan showed no fetal heartbeat and the medics therefore asked Sophia to take tablets to terminate her pregnancy.
22 years old Sophia was heartbroken, but her intuition told her to wait. She therefore requested for another scan in eight days time.
She refused to listen to her husband Chris too who trusted the doctor's verdict.
"I even remember Chris saying, 'Just take the tablets' because he trusted the doctors. I even started to hate him a bit."
Miraculously, the second scan revealed the baby was alive!
Baby Bella-Mae was born prematurely and after the first shock, the family had to deal with the second trauma of her struggle for survival as she battled pneumonia and was in the hospital's Intensive Care Unit.
Fortunately, the baby proved her mother's instincts right and is now a healthy 6 month old.
"I wanted to call her Lucky! Now she is here, it's amazing. The staff who delivered Bella-Mae were incredible. But we are still angry." Says Chris.
Sophia thinks she is a miracle child.
"She is our little miracle. I can't put her down, she's so precious. I look at her thinking, 'If I'd taken the tablets, she wouldn't be here'. They'd have killed her in four hours."
Duncan Selbie, head of NHS trust has apologised to the couple and has ordered a probe into the hospital where at least 6000 scans take place annually.
He said, "Human error of this sort is extremely unusual."
– Atula, Staff Writer
Related Articles:
---