A Utah mom and her kids have a lot to be thankful for today after their survival during an highway accident has been called an absolute miracle.
Heather Slack was returning home from a holiday trip with her two children when she changed lanes as the road curved and hit a patch of black ice.
"It shot me across, and I don't know what happened," Heather told the Deseret News "I didn't know I was under the truck. And I kind of thought I was falling off a cliff. We were screaming because we could hear something, but we didn't know what."
The car was pinned under a tanker, that was hauling 8,000 gallons of fuel, and was dragged about 200 yards.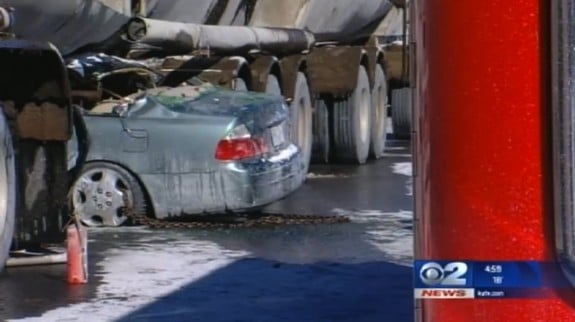 Heather's son told KUTV new, "I woke up when my mom started screaming and I saw the roof go down."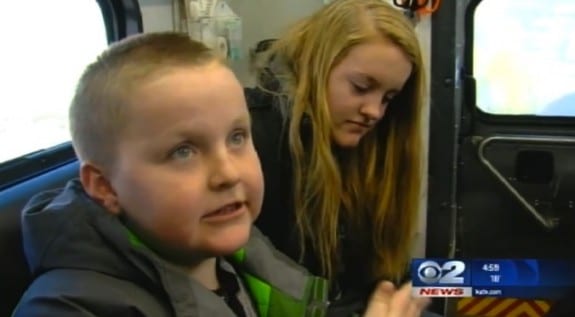 The car's roof was smashed, but somehow the family was protected by "little pods" of space that didn't crunch when the car has hit.
"The middle of the car fell through, but my daughter and I were under 'bubble cones' on either side," Heather recalled.
Family driving behind them didn't believe that they had survived.
A short time later, though Heather and her kids heard the voices of emergency crews calling from the outside.
"I said, 'You got to get us out here because we must have some amazing things to do because Heavenly Father totally protected me and my children today, and we're very, very blessed because of it.' We know he has a plan for us, and we have a lot to do because we're still here," she said.
Utah Highway Patrol Sgt. Blaine Robbins told news crews the family was incredible lucky.
"No fatalities. No injuries. It's an absolute miracle that there were no injuries in this particular crash. I can't reiterate how lucky these people are. It's unreal. They're very, very lucky."
He also noted that the accident may have been caused by Heather going too fast for conditions. The story, he says, is a good reminder for all motorists to slow down and be aware that black ice may exist on cold days, even if the roads look clear.
---
[ad]