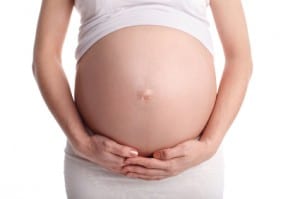 Most mothers would agree that the last trimester is the time when the bulging belly, constant discomfort and the painful back makes them wish the baby arrived sooner than later. But for Heather Carroll even at 27 weeks her discomforts have multiplied six times over because she is not expecting one but six babies at once. What makes her pregnancy an even bigger adventure is the fact that she is just 5 feet 2 inches.
Heather is currently under constant medical supervision at the Brookwood Medical Center. Doctors presume that the babies, 5 girls and one boy, would be at least 10 to 12 weeks early.
For Heather it all started out when she endured four miscarriages and underwent intrauterine insemination after doctors found that she had poly cystic ovaries. To increase her egg production, she took fertility drugs and then her husband's sperms were placed into her uterus. It was with the help of the same procedure that the couple earlier had their son Grant who is almost 2 years old.
After the procedure, during the five week ultrasound the nurse noticed there were more than one amniotic sacs. In moments the count revealed that Heather was not having twins or triplets but sextuplets.
"I thought the nurse was going to faint," Carroll said. "Then she said, 'Oh, no, there's six,' and started apologizing."
For Heather the shock was enormous.
"All I could think about was, 'how are we going to take care of six babies?' because we had a hard enough time with our first," she said.
But support came from her husband Mitchell who works as a maintenance mechanic at a Selma paper plant. He too though is a bit worried about how they will provide for clothes, prom dresses and phone bills for five girls growing up at the same time.
Initially it was suggested that Heather reduce the number of embryos, but she was not ready to make that decision.
"Everybody told us we were crazy, but they've all gotten so used to the idea, we haven't met anybody who's not excited about it now," she said.
The community is already coming forward to help the soon-to-be sextuplet parents. Friends have started working on the log home the Carrols live in. Local companies have pledged to supply diapers and formula, and a Clanton car dealership may donate a van. Maplesville Baptist Church, where her husband is youth pastor, is expanding its nursery and Carroll's doctor's office has already thrown her a baby shower.
What doctors fear right now is the complications that may arrive soon after the delivery takes place. Presently, at 27 weeks, the babies are about two pounds. If they arrive 10 to 12 weeks early they will have breathing and developmental issues as is usual with preterm babies.
Bill McKenzie, Heather's OB/GYN, though is very hopeful. He feels the babies are doing well and their chance of survival increased about 4 percent a day over the past three weeks.
"It's just a very unique demand on a woman's body and she is a little hiccup of a girl," the doctor said. "But she's got a very big heart."
Usually 115 pounds, Heather has had to put 35 extra pounds. She says she feels one baby sitting in each hip, three down low in her pelvis and another that moves above and below. Regular sonogram and fetal monitoring are part of the daily routine at the hospital and she is also required to eat 4,000 calories a day having a nutrient-packed milkshake with every meal plus supplements via IV drip.
Doctors are now planning carefully for the unusual delivery. While medications are being given to Heather to hold off her contractions, the team is getting ready for a C-section.
The babies have been lettered from A to F and each one will have his or her own care team.
"It takes some planning to deliver, hand off and possibly resuscitate six babies," Dr. McKenzie  said. "There's kind of an elegant dance that will take place in the delivery room."
The doctor has also advised the Carolls about the probable risks that Heather might face during the delivery and post birth including heart complications, lung issues etc.
Heather on her part too is a bit worried about the recovery process after the delivery. Although she knows that the babies would need to stay at the hospital for maybe a month after birth, she is already missing her son Grant and skipping her church's Vacation Bible School.
But she understands that her priorities have to change,
"I've got these babies that need me more," Heather said.
---