Thirty-two year old Barbara Short beat odds of 700,000 to 1 to conceive twins – the second time – after she had lost her twin babies at birth just weeks earlier. Heartbroken after her earlier loss, Barbara now says that it feels as if her lost babies had been 'sent back to her' in the form of the second set of healthy twins.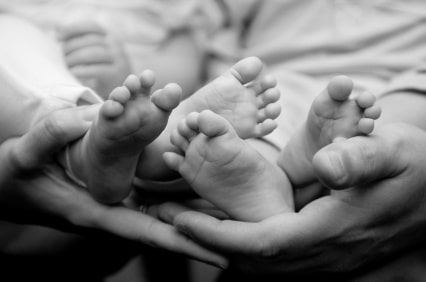 When she found out she was pregnant in April 2012, Barbara suffered complications right from the beginning. Tragic twins Ava and Alfie were born 23 weeks later when she went into early labor and was taken to the University Hospital of North Tees in Stockton.
At birth Ava weighed just 450 grams while Alfie, who was born 10 minutes later, weight 480 grams. The babies were so tiny that they could have fit into the palm of their mother's hand. Both of them were immediately put on ventilators, however, Ava lived for only eight hours and Alfie, who outlived her sister only by a few hours, lost her fight later that evening.
Barbara, who has two older children – 7 year old Molly-Ho Short and 4 year old James Wallace, was devastated.
She recalls, "I felt like I was looking in on someone else and it wasn't me," she recalled. "I'd had two babies, but I was going home with none. None of it seemed real. I had nothing. I still haven't got over that and I don't expect I ever will."
However, just two months later, Barbara found out that she was pregnant again, and to her surprise she was carrying twins for the second time. While experts put the odds of having twins without IVF is about 1 in 700,000 cases, having two sets of twins so close together is even rarer.
To everyone's relief, she did not have any complications this time and went into labor at 36 weeks. Barbara delivered identical twins Frankie and Lilly Wallace on the 22nd of July 2013 after a Caesarian delivery. Although Frankie wasn't breathing at birth, doctors were able to resuscitate him and he began breathing six minutes later. Lilly was discharged from the hospital two days after her birth, but Frankie had to remain in the special care baby unit for an additional five days.
Barbara said, "It's as if Ava and Alfie have been sent back to me. I can't believe how can I be so blessed to have another two and be able to take them home with me. Everyone, even the doctors, were shocked at me having two sets of twins in less than a year. It was definitely meant to be that I was given Frankie and Lilly."
Barbara, who has since separated from the babies' father, says that the eight month old babies are perfectly healthy and are already developing unique personalities – Frankie being 'really stern and serious' and Lilly on the other hand always being 'full of smiles'.
A former delivery driver, the mom says that it is as if Ava and Alfie had been sent back to her.
The proud mum, of Hartlepool, Cleveland, added, "It's hard to explain but when they were born I was over the moon, but at the same time I was still grieving for Ava and Alfie. But even though they have filled the void, I'll still always feel an emptiness for the two I lost, especially when I go to the cemetery. I know their souls are with us though. They can never be replaced."
---
[ad]