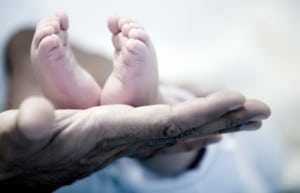 As we all know, babies will come whenever and where ever they please.  Sometimes that where ever happens to be a place where no medical assistance is available. But thankfully for a UK mom, help was close by when her little boy chose to arrive while she was out shopping.
Jon Wood, a student paramedic, was off duty when he noticed a heavily pregnant woman crying in pain outside the Bullring shopping centre in central Birmingham.
An ambulance had been called but was 15 minutes away so John stepped in to help the mom who was visibly in labour.
He said:
"The lady's waters hadn't broken but she said she could feel the baby was coming. I had just enough time to make her comfortable and begin my assessment, when she moved her hand away I could see the baby's head."
The closest response, a motorcycle paramedic, arrived minutes later and the pair worked together to help the woman deliver her baby boy. After the the birth the new mom and baby were wrapped in coats before an ambulance took them to the hospital.
James told news crews he was thankful 'it was a normal and safe delivery with no complications and both mother and baby were fine.'
As an emergency responder in training James has already helped to deliver many little ones.
'I've lost count of the number of babies I have delivered but this will definitely be a very memorable one.'
Robert Dudley, head of nursing and paramedic science at the University of Worcester, said:
"Jon is a credit to the profession and the university. His education and training equipped him with the knowledge and skills necessary to remain calm and professional in what were difficult circumstances. Jon is going to make an outstanding paramedic."
I'm sure this family is thankful he was close by when their baby decided it was his time to arrive!
---
[ad]