Devi Mariah Ostler had first started feeling contractions while driving her six-year-old son to her mother's house on Saturday. Rather than go home, she started heading for the hospital, and the contractions just kept coming.
"I knew the baby was coming and it doesn't help to panic," she told CBS. "So I just stayed calm and said, 'Well, if I deliver it on my own, then I deliver it on my own. If somebody's there, somebody's there.'"
And she did sound quite calm at first when she realized she needed to pull over and call 911. But then things took a very quick and drastic change when her water broke while speaking to the dispatcher.
"My water broke in the fast lane, doing 75," Devi said.
Yet, somehow, she was still able to pull over and stay on the line to describe her car so that police officers could find her.
"We knew. We just knew it was going to happen. There was going to be a baby on the side of the freeway right then," Brittney Chugg—the dispatcher that talked Devi through the labor, telling her to lay her seat back, breathe, and hold the baby's head so he wasn't born too quickly—told CBS.
Thankfully, though, Police Chief Jean Loveland and Highway Patrol trooper Josh Carr managed to get there in time. Both had sped quickly to the mother, and within a minute of their arrival, out came the 9lb, 9oz baby boy.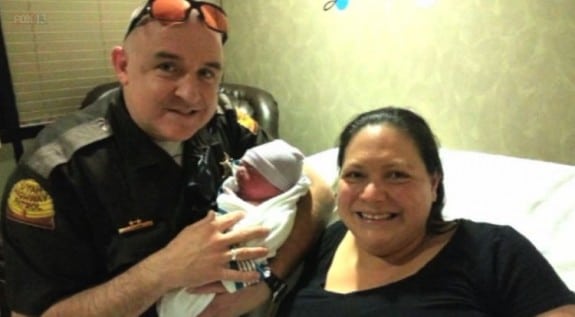 "She was actually just in the emergency lane, so I could feel the wind of the vehicles blowing right by me, Carr told CBS. "He came right out in my hands. It was very emotional, probably next to my own children's birth. It was a very satisfying moment in my career."
From there, Devi and her son, whom she hasn't picked out a name for just yet, were transported to the hospital in Brigham City. Everyone has been reported as in good condition, and mom has even had a few visits in the hospital since the birth, including her son and daughter, and the officers that came to help her.
As for the experience . . . well, Devi isn't complaining, even if her third child was born faster than all of the other and she had to deliver on the side of the road.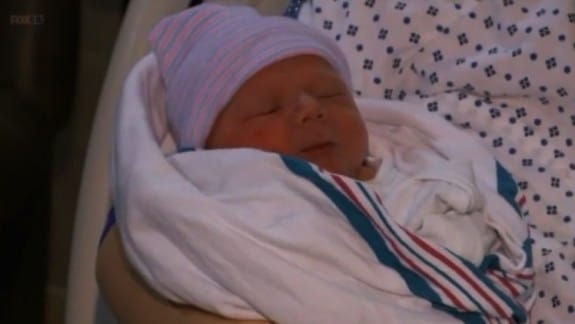 "This was the fastest," she said. "I am grateful that I have easy labors. I really am, even if it's on the side of the road."
Related Articles:
---
[ad]