A mom-to-be, who was just making a quick bathroom break, ended up giving birth to a baby girl in a Tim Hortons washroom on Tuesday morning.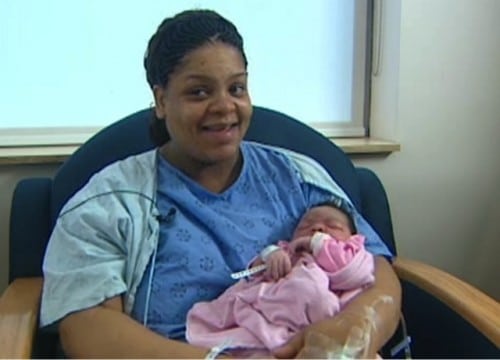 Shireen Anderson stopped at the popular coffee shop in Windsor, thinking she had to pee, but instead the cramps she was experiencing were contractions.
"She was at the end of our counter saying, 'Call 911. The baby is coming,'" manager Aaron Hayes said. "I asked her, 'Do you want to sit down? What can I do for you?'"
With the help of the emergency operator, Aaron and another employee, Judy Glen, helped deliver baby Azauria Lorraine, who weighed in at seven pounds, 14 ounces.
"I'm still letting it sink in," Hayes said. "I was on the phone with 911 in the bathroom. They were telling me what to do. Judy was great. She held the baby and I grabbed a cloth and cleaned her. That was when the paramedics got there."
After the delivery mom and baby were transported by ambulance to Windsor Regional Hospital, where they are said to be doing well.
"Tim Hortons' employees did a great job. They stepped up and everyone pulled together for a good team effort," EMS district chief Dennis McFarlan said.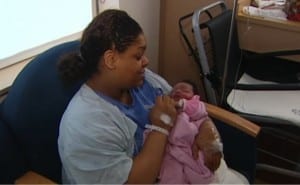 Shireen said she was grateful to the staff for their help.
"I know she (Glen) was nervous because she was saying, 'Don't push. Don't push.' But I didn't have a choice. I tried holding out as much as possible," Anderson said. "They handled it really good. I was screaming at the top of my lungs. I know when I came out the whole staff was cheering."
Thankfully Azauria arrived safely and is healthy.
"You see this on TV. I would never expect to have a child in Tim Hortons." Anderson said.
---