Katherine Kropus woke up on Tuesday morning, prepared for a typical day at work, but the sharp pains in her stomach foreshadowed a day that would be anything but typical for the 23-year-old woman.
I felt like I was getting stabbed in my lower back," the new mom told USA Today. "I have a high tolerance for pain, but this was like a 9 on a scale of 10."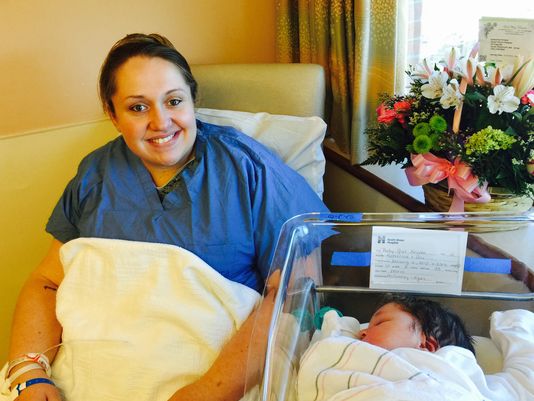 In response to that pain, Katherine and her boyfriend, Dan Keefe, headed to the South Shore Hospital's emergency room in South Weymouth, Mass. Katherine spent the day undergoing tests so that doctors could try and pinpoint what might be causing her pain. One of those tests—a blood test—indicated that she was five weeks pregnant.
Interestingly enough, Katherine said she wasn't surprised to discover that she was in the early stages of pregnancy. But what would come next was quite the surprise; a pelvic exam revealed that Katherine was 9 centimeters dilated and about to give birth.
"I noticed my ankles were swollen and there was a bit of blood. I had no idea I was full term, though," Katherine said. "My boyfriend, Dan, asked if he should call my mom. 'Yeah, you should probably call,' I said."
Within the hour, Katherine gave birth to 10 lb, 2 oz Elizabeth Olivia Keefe via emergency cesarean. And just after midnight, she awoke from the anesthesia to find her family cradling her baby girl, whom she plans to call Ellie.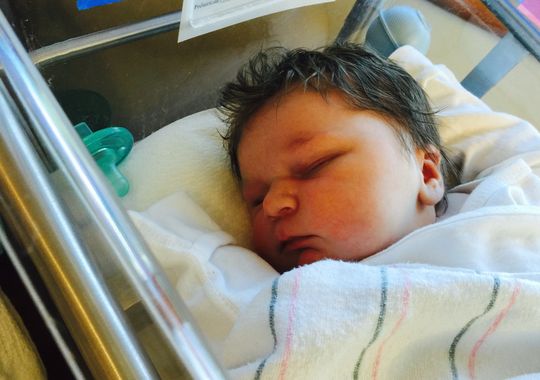 Of course, an entry like Ellie's does make you a bit famous, as Katherine has discovered. In fact, she's had so many people come by and visit, she says "at this point, it might as well be a meet and greet. People come by saying, we knew each other freshman year of high school, and I'm like, okay."
But all that fame isn't going to this mother's head. In fact, she says that her top priority is the health of her bay girl. And—despite the surprise—she and Dan couldn't be happier.
"We're definitely happy," she said, sharing that she and the baby will both stay at the hospital until Sunday with Dan nearby. And, once they return home, a baby shower and marriage will follow . . . eventually.
"No need to rush anything else at this point," she said.
Related Articles:
---
[ad]