A mom in India has welcomed, what is believed to be the largest child to date in that country, when she gave birth to a 13-pound little boy last week.
With the average newborn weighing a mere five to seven pounds, the new baby, who has yet to be named, was definitely a surprise for medical staff at at the government hospital in Sri Ganganagar, Rajasthan, India.  In fact 4 doctors were on hand to assist with the delivery.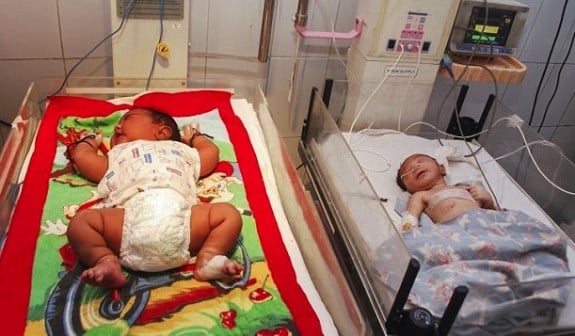 Dr Anamika Aggarwal, who was part of the team, told Barcroft Media,
"I have never delivered any new-born this big.  He was definitely a surprise for us. He is not only the biggest baby ever born at the hospital but in the whole country."
Adding,
"His mother tried to give him a normal birth but the baby was too big to come out naturally and got stuck so we had to perform the C-section with utmost care.  Both the mother and the child are in sound health. Initially he had respiratory trouble but now he is doing absolutely fine and is healthy."
The mom, 30-year-old Goga Bai, is a diabetic patient. In cases where the mother is diabetic, her child can be at risk for obesity.
Thankfully, the baby is healthy and no congenital anomaly has been found.  Both mom and baby will being kept for observation, but are expected to be released home next week.
---
[ad]