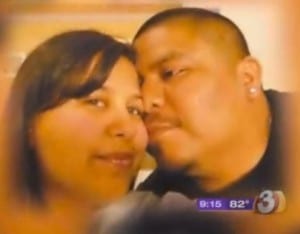 In a rare event, a woman from Phoenix has given birth to a baby she had carried outside her uterus. Although born premature, the baby is said to be doing just fine.
27 year old Nicollete Soto was told by her doctors about the grave risk of carrying her baby outside the womb. But she wanted to see the pregnancy through and was not ready to give up her child.
Her boyfriend, Victor Perfecto, supported her decision.
"We took a risk," he said. "We left it for the doctors to decide when to deliver the baby and God to decide everything else."
The two have been dating for nine years and already have a 6 year old son Adian. They planned to get married once they saved enough money. Although both are employed, Victor at a pediatrician's office and Nicollete at a day-care facility, they did not have insurance.
Early on in the pregnancy a doctor had checked Nicollete and found everything normal. But when the couple qualified for the state's insurance plan for indigents, AHCCCS, the unusual pregnancy was spotted. By that time Nicollete was already 18 weeks pregnant.
According to doctors if it had been spotted earlier, the medics would have strongly advised Nicollete to terminate the pregnancy.
"The risk of rupture, and possible fatal blood loss, would have been too great", said Dr. William Clewell of the maternal-fetal center.
They informed the couple of the risk involved. There were a number of complications that could occur risking the life of the baby as well as the mother.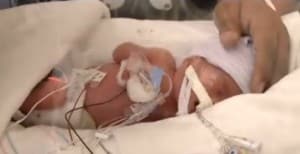 Surgeons might have to remove her uterus or cut out a part of her bowel. If the placenta had attached to an organ for its blood supply, doctors would need to cut it or give Nicollete a drug usually used in chemotherapy to kill the placenta tissue.
But despite the circumstances, Nicollete wished to carry the child.
"She decided, 'I want to keep going,' " Victor said."All I could do is support her and be there."
Nicollete was hospitalised in mid-March as doctors did not want her to be in a riskier situation if rupture happened. Up until then she had been working a nine hour shift at the day care.
Doctors initially thought that Nicollete was carrying the baby completely outside the uterus in her abdomen. They therefore feared that if the placenta had attached itself to a vital organ, it would put her in grave danger.
It was only during the delivery that doctors realised that it was not a complete abdomen pregnancy, but the embryo had attached itself at the area where the fallopian tube meets the uterus. It is called a corneal pregnancy.
"That area of the uterus is not supposed to stretch enough to accommodate a pregnancy", said Dr. Rodney Edwards, one of the surgeons in the operating room and the director of the Maternal Fetal Medicine Center at Banner Good Samaritan Medical Center. "Pregnancies of that type usually end at the 12- to 14-week mark, with the tube rupturing. For some reason, hers did not rupture. It continued to stretch."
On Monday, Nicollete was taken for surgery where the operating room atmosphere was tense. Clewell said he advised one surgeon to not tap the abdominal area too hard.
"If you know you have a ticking bomb," he said, "one thing you don't want to do is play with it."
The baby was attached just outside his mother's womb and protected by a thin membrane. Baby Azelan Cruz Perfecto was born at 32 weeks, weighing just 2 pounds and 14 ounces.
Thankfully, the placenta was not attached to any vital organ but mostly to the uterine wall. There were a team of vascular, trauma, urology and radiology surgeons in the operating room to handle the situation, but doctors found the procedure easier than expected.
Victor had been watching baby Azelan come into the world and whisked away to the Phoenix Children's Hospital wing at Good Samaritan. He said he felt like his head was on a swivel, constantly looking at his newborn son and back at the surgeons operating on his wife. He followed the baby out of the operating room and later found out that Nicollete too was out within an hour.
"All this weight just went away," he said. "I was so happy."
Nicollete miraculously needs no special medical intervention and did not lose much blood either. She will, however, have a larger than normal abdominal scar.
"This is just a case that proves, in medicine, nothing happens 'always' or 'never,' " Dr. Edwards said later.
By Monday afternoon Nicollete was in a good enough condition to decide on the name Azelan for her newborn. It is a slight variation of Aslan, the great lion from Chronicles of Narnia.
Now the next thing is to shop for the baby as Victor said they feared if things would have ended differently it would have been too painful for them to return it all.
The baby is expected to be hospitalized for three to four weeks while Nicollete will be released in three to four days.
Congratulations to the family!
---
[ad]