There was surprise and excitement at a hospital in China this week when a mom gave birth to an almost 14lb baby boy!
The South China Morning Post reports that the infant was born by Caesarean section at the Chongji Maternity Hospital in Yucheng city, Shanxi province.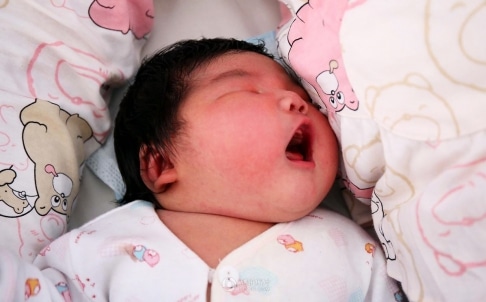 The baby, whose name was not released, was delivered on August 23 at 7.25pm weighing 6.3kg – the size of most 3 month-olds.
Chongji Maternity's director told the media,
"It's the first time I've delivered such a huge baby in my 30-year career."
Few details are available about the baby's birth, but often when a little one arrives this big it is because the mom had gestational diabetes during her pregnancy.
The Mayo Clinic notes that the extra glucose in your bloodstream crosses the placenta, which triggers your baby's pancreas to make extra insulin. This can cause a growing baby to grow too large.
And while this newborn is much bigger than the average baby, he is not as big as some of the babies we reported on earlier this year. Sammisano was born exactly one year ago at the medical center in San Francisco weighing a robust 16 pounds, 1.7 ounces!
---
[ad]