In what can only be described as an incredible medical break through for infertile women, a Swedish mom has welcomed a healthy baby boy- which she successfully carried in a donated womb!
The Lancet reports that the baby, who arrived last month, was delivered by caesarian section at 31 weeks after the woman developed preeclampsia. The little boy weighed a healthy 3.9 lbs (1.77 kg) and doctors say mother and baby are both fine at home.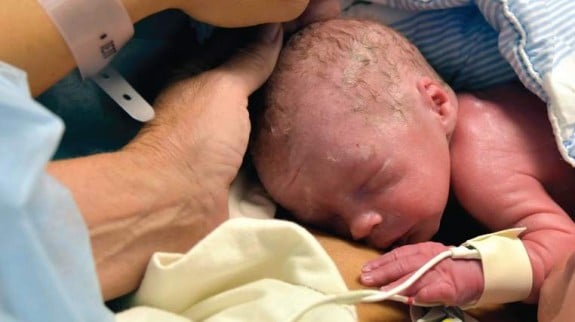 The woman,36, was born with a genetic condition called Mayer Rokitansky Kuster Hauser syndrome, or MRKH. Women with this condition often have healthy ovaries but no womb.
Almost two years ago a 61-year-old "close family friend" donated a live womb and doctors were able to harvest eggs from the recipient's ovaries for fertilisation and cryogenic freezing. A year after the transplant, doctors transferred a single early stage embryo in to the womb, and a pregnancy test three weeks later was positive!
Liza Johannesson, gynaecology surgeon at the University of Gothenburg, said: "I think it can have major impact, huge impact, because it actually gives hope. And it gives hope to those women and men also, of course that thought they would never have a child."
In January doctors in Sweden revealed that one of the women in their program had become pregnant following a womb transplant.  At the time they noted that the donor was the woman's mom.  When you match the dates and location – it is likely this pregnancy is the one they announced.
The news, however, brings hope to couples around the world who are struggling to conceive. MRKH is said to affect one woman in every 4,500. Doctors in Britain are planning similar operations starting next year, which could potentially help thousands of British women in the future, and many more around the world!
---
[ad]