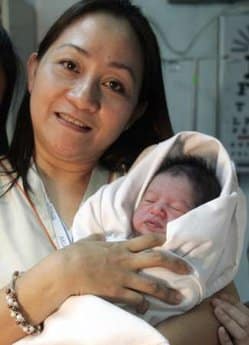 The mother of a newborn found in the garbage can aboard a flight from Bahrain earlier this week has come forward to tell her story.
According to lawmakers, the woman became pregnant after she was raped by her employer while working as a maid in Qatar and became pregnant. She said her employer's wife then forced her to return home, and she managed to hide her pregnancy and board a flight.
"She had labour pains in the plane," Rep. Lani Mercado said. "Then she gave birth."
Scared of what her family would say, she abandoned the baby in the airplane's garbage and returned to her seat.
Ms. Mercado, who serves on legislative committees on children and women, said she met with the woman at Manila's National Bureau of Investigation headquarters to try to help her.
The woman has been shown a picture of the child, and "she's very eager to see her baby," he said.
According to police Inspector Jeffrey Vicente the unnamed woman left in June last year to work in Qatar for three years. Her husband, with whom she has 2 children with, told police that her family was surprised when she suddenly returned home.
The six-pound, nine-ounce baby — still attached to the placenta — was found wrapped in tissue paper.
When he was found by airport officials the baby was bluish in colour and may have died within a few minutes had he not been discovered.
The newborn, who has been temporarily named George Francis after Gulf Air's flight code GF, is now fine but underwent an X-ray because of two bumps on his head, welfare officer Thelsa Biolena said.
The 30-year-old woman was located Wednesday in Apayao after investigators set out to find the person who sat in a bloodstained seat on the plane. Officials are still working to confirm that the woman is the mother and plan to conduct DNA tests and that it would take at least a month to establish whether she is the parent.
"We want to be very sure that we won't ascribe this act to the wrong person," Soliman said.
Bahrain-based Gulf Air said in an emailed statement Thursday it is providing the child with baby food, medicine, diapers and vitamins.
Hopefully this little guy will be placed with a family that will be able to provide him with the most love and care. I also hope that the police test the former employer's DNA to see if he is, in fact, the baby's biological father. – Lisa, Editor


Related Articles:
SOURCE
{AP PHOTO}
---
[ad]