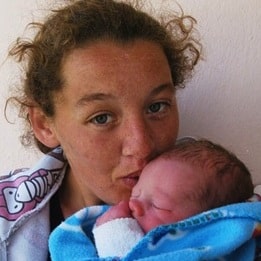 Most mothers stay a couple of days at the hospital after giving birth and some others stay for a week or two. But one new mom went to the hospital, delivered a baby and came back home all in a single evening.
Casey Benger gave birth to a healthy baby boy at Bathurst Base Hospital on Monday at around 7.40 pm. But by 11.40 pm the mother and the newborn were already sitting in a taxi on their way back home.
Baby Harley was born after a short induced labour on Monday night. Because Casey and her partner Cam did not have a car, he decided to stay at home to look after their other children Jayden, 5, and 14 months old Stuart. Meanwhile after the delivery the hospital allowed Casey to go back home within four hours.
Although it was also a surprise for the taxi driver when he saw a mother who had just given birth to a baby as his passenger in the middle of the night, the hospital assures that it is normal practice.
Director of nursing Glenda Entwisle said that the mothers who have given birth before, have a vaginal birth which is uncomplicated and mother and baby are doing well are allowed to go home four hours after the delivery under the community midwifery program.
A midwife later visits the new mom daily for six days to ensure that both the mother and baby are doing well. After that they are supported by community health's child and family nurses.
The director also adds that it is a way of letting mothers be with their family as soon as possible and avoid the problems that might arise due to prolonged stay at hospitals.
Casey however feels that she was encouraged to leave because the maternity unit was busy.
"I was a bit shocked at first and asked if it would be better to stay, but we were assessed by the doctor and told everything was fine," Casey said.
"The staff is under a lot of pressure up there. They were very busy with people coming and going, but they were excellent to me while I was in labour."
Entwisle on the other hand informs that a bed was available for Casey if she needed it and she was given a choice to stay or go home to be with her family. She also added that mothers who leave early are given numbers of the midwife and maternity if they have some concerns.
She said that the program has been running for two years and the feedback was very positive from mothers.
Enswisle also says that under normal circumstances the average length of stay at a hospital for a woman was two days though years ago it was two weeks.
"In the old days it would have been around two weeks," Entwisle said.
She also said that September October months are normally the busiest for maternity units.
On Tuesday a midwife had already visited Casey and checked that Baby Harley was doing fine.
Related Articles:
---
[ad]