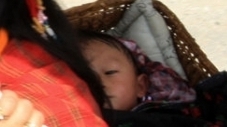 A Bolivian mom and another woman have been arrested after police thwarted a plan the poverty stricken mom came up while pregnant with a baby she was too poor to take care of.
Identified as Jesusa Molle by the local police officials, the new mother sold her baby for 1000 bolivianos, the equivalent of $140 US. The buyer was a 35 year old women called Evangelina Suarez who could not have her own children agreed to 'buy' the baby from the mother two months earlier.
According to Police official Jose Borda, who heads the division of trafficking of persons in the city of Cochabamba, the mother first pretended as if her baby had been kidnapped after birth from the maternity ward, but she later confessed to having sold the child.
While distressing, the women a domestic worker perhaps thought it best to give the child away for a better future, when she was abandoned by her husband and had no secure means of looking after the baby. Poverty can lead many to take drastic measures, especially those who live in countries where 60% of the population are living below the poverty line.
The authorities said they had yet to make a decision on who should be given custody of the child
Related Articles:
---
[ad]