In 2012 Michelle Buchholtz was diagnosed with a stage 4 triple negative cancer tumour in her right breast.  Immediately following the diagnosis doctors removed the tumour along with 18 lymph nodes.  As a precaution Michelle also underwent a double mastectomy.
Before she was scheduled to start chemotheraphy it was revealed that she was expecting.  Sadly, the couple was not able to keep the baby due to Michelle's treatment.
To help ensure that they could conceive later Michelle and her partner Alex Ansalone stored her eggs at a Melbourne IVF clinic.
After months of recovering from treatment, Michelle and Alex started to try for another child.
In September 2013 the couple received news they were expecting again but had to terminate the pregnancy due to a T18 confirmation, meaning the child would not survive due to abnormalities.
By February of this year Michelle returned to work feeling that she had won her battle with breast cancer.  But, in August an MRI found that the cancer had returned and spread to her spine.
With no chance of a cure, the family's only option was to try to extend her survival.  The bigger challenge?  She was pregnant again.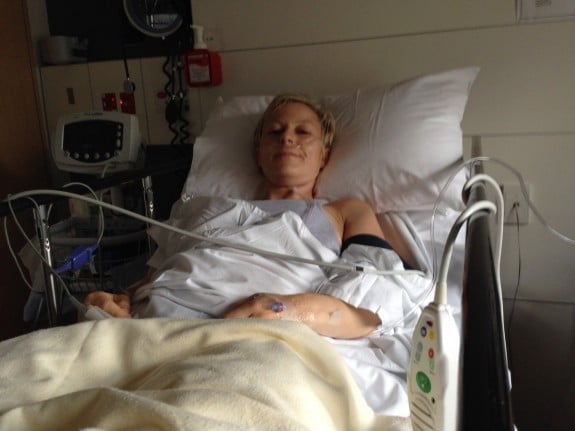 To help combat the cancer, and save the baby, Michelle has vitamin C intravenously three times a week and takes a high dose supplement regimen of 30 tablets a day to help with cell repair, antioxidants and energy production.  The couple also purchased an ultra sound machine to perform daily sono therapy which shrinks the cancer cells.
But even with all of these treatments twelve new tumours have grown in the last two months. With the cancer spreading to her hips and left femur, doctors made the choice to deliver the baby at 29 weeks because they feared that her body would not withstand a full-term pregnancy.
On November 14th Ava Michelle Ansalone arrived weighing just 1056gms.  For the new mom, Ava's arrival was bittersweet.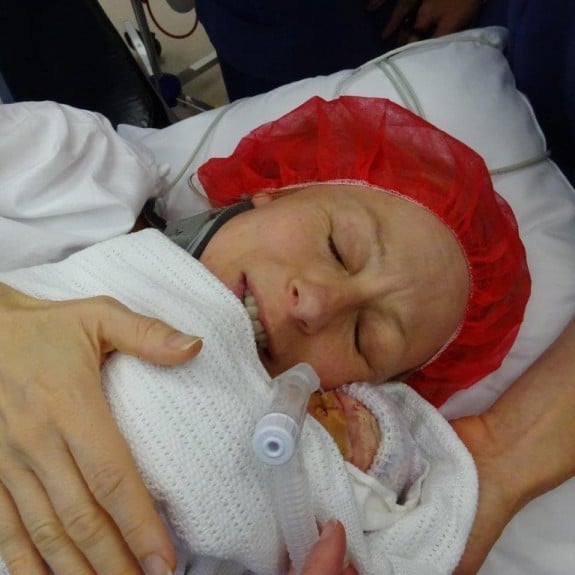 "I felt mixed emotions,'' Michelle told The Herald Sun "It was difficult to be totally happy initially, I was looking at her thinking 'Oh My God I'm not going to be here'.  But when they put her on my chest a couple of days later everything sank away.  It was beautiful. She was crying a little bit, but once she was on me she soothed.''
The baby, the couple says, has given them strength.
"It was the greatest day of our lives," Alex told the Herald Sun. "We've been told her prognosis is not good and there's no cure. So having the baby has been the best thing at this stage. It has helped us push through."
To help offset the costs of the treatment Alex set up a My Cause page.  To date they have raised $48,000 of their $50,000 goal.
---
[ad]