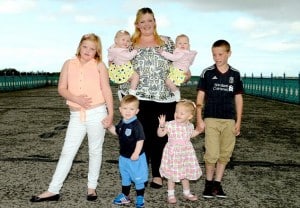 If practice makes perfect, Sara Jones surely has got a lot of experience delivering twins. The new mom beat the incredible odds of 500,000 to one to deliver twins for the third time.
33 year old Sara from Southport, Merseyside gave birth to her third set of twins Keeva and Ceira last June. With four other kids and three set of twins she is now the proud mom of ten children.
The family goes through eight pints of milk and two loaves of bread per day as well as two bulk-size packs of diaper a week. But for Sara, there is nothing unusual about raising three sets of twins as she herself was raised with identical twin sisters.
'For most families having twins is something out of the ordinary … [but for me] it would almost be weird for me to fall pregnant and not have twins,' she says.
Ten years ago Sara gave birth to her first set of twins Liam and Niamh. She then split from their father Rhys before beginning a new relationship with her current fiance 31 year old Craig Morgan.
In 2010 she gave birth to her second twins Shay and Aoife who joined their siblings – Brogane, 16, Siobhan, 13, Calam, 12, and Sean, four.
'They keep me on my toes,' she said. 'Some families can't have children, so I see every single one as a blessing.'
During her pregnancy with the second set of twins she says it was a bit daunting but with the third set she was much more confident.
But life is not as easy as she makes it sound. Chris is an unemployed furniture maker while Sara has to look after the kids full time.
'We have to budget very strictly,' Sara added. 'I try to get everything for about £100 a week, but every day I go to the supermarket and spend ­another £15 to top up.'
She also believes that each of her children is unique and refuses to make the younger ones wear hand me downs. Despite the financial pressures, Sara says she would not want it any other way. She believes the twins have a best friend for life.
'And I'm hoping they're all going to look after me when I'm a pensioner,' she adds.
---
[ad]