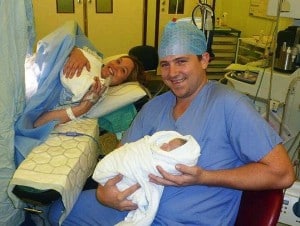 Kid's birthdays are always a special occasion but no mother imagines celebrating 'twin' twin birthdays on the same day. That is exactly what Kim Hefer will have to do from now after she gave birth to twin boys on July 18th, which is coincidentally the same day, she gave birth to her other set of twins four year ago!
In an extraordinary coincidence that is calculated to one happen in one in 30 million deliveries 29 year old Kim gave birth to Devon and Logan on the birthday of her four year old twin sons Tristan and Blake.
It is believed to be the first time in the UK that naturally conceived twins were born on the same day as their older twin siblings. Experts say that although it is not rare for a mother to give birth to non-identical twins again after a previous delivery, the odds of her giving birth on the same day is extremely rare.
Kim says, "When I found out I was having yet another set of twins at my scan I couldn't believe it, we were gobsmacked. I had said to the doctor 'will I be home for the boys' birthday' and when he said no I never dreamed they would arrive on the same day."
Kim's husband Freddie is a financial manager with Deutsche Bank and both originally are from South Africa.
Freddie says that they were expecting the twins on August 13th but Kim had high blood pressure and was taken to the hospital four weeks early. She had been booked for a Caesarean section on July 23 but incredibly, the twins arrived earlier.
Logan was born at 11.50pm weighing 5lbs,5ozs and Devon was born a minute later at a weight of 6lbs,3ozs.
Kim says, "My house is a little insane at the moment but we are all extremely happy. Tristan and Blake are very excited about their new brothers and said they can't wait to play with them."
She also imagines that her husband will now turn their backyard into rugby or a cricket field as he is a huge fan of both the games.
Worldwide there are only six known families who have had two set of twins born on the same date.
The Hefers are currently not planning on adding to the family.
"We're definitely not planning to have any more children – I think two sets of twins is quite enough," Kim stresses.

Keith Reed, chief executive of the Twins and Multiple Births Association, said, 'It's a fantastic coincidence. Although there's a one in 16 chance of having a second set of non-identical twins, it must be very unlikely to have them born on the same day."
The Hefer family is surely getting ready for lots and lots of double delights in the near future.
---
[ad]