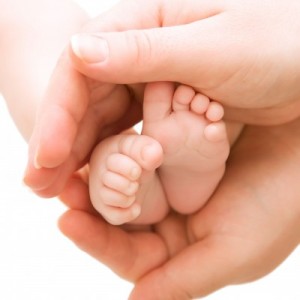 We've always wondered how women go through an entire pregnancy without knowing. Leanne Carter, a 21-year-old woman from Ilkeston, Nottinghamshire, says she'd always wondered the very same thing. Yet, as fate would have it, she ended up being one of those women. Even more amazing is the fact that her little surprise arrived just in time for Christmas.
According to Leanne, there had never been any symptoms of pregnancy. Her periods continued, as normal. She never felt any movement inside her belly. But then, at 2:30 a.m. on Christmas morning, Leanne awoke with what she believed to be severe menstrual cramps. The cramps continued to get worse and Leanne's mother suggested they visit the hospital.
Hospital staff didn't catch on that Leanne was pregnant, at first. Then Leanne suddenly felt a need to push, which clued the nursing staff in. But for Leanne, the realization that she had been pregnant would come a little later.
"When I was there, I went to the toilet and just felt the need to push. My mum had to go and get the staff and they asked if I was pregnant," Leanne said. "They wheeled me in and the first time I realized I was pregnant was when they gave me the gas and air as I was pushing…It was a big surprise – I didn't know anything about it," Leanne told Daily Mail UK. "When I heard of these kinds of things before, I always thought, 'How could you not know?'"
Upon realizing that she was pregnant, Leanne went through a wide range of emotions – partly because she'd continued on about a normal life during her pregnancy. She had even secured a job towards the end of her pregnancy at a shop in her home town – a job that required some heavy lifting, which left Leanne concerned for the well-being of the baby she'd just delivered.
"I was shocked, then scared and worried and I didn't know if he was okay, but then I was happy," she said. "I did a lot of heavy lifting – he's had it tough, but he's fine. I just carried on life as normal, did my day-to-day stuff."
And fine he is! The Medical Staff at Queen's Medical Center in Nottingham believe that Leanne's son, named Joseph, was born two weeks early. Alison Atkinson, head of maternity of Nottingham University Hospitals says that, while situations like Leanne's are rare, they do happen. Thankfully, everything turned out just fine for mom and baby, who was born at 4 pounds, 12 ounces.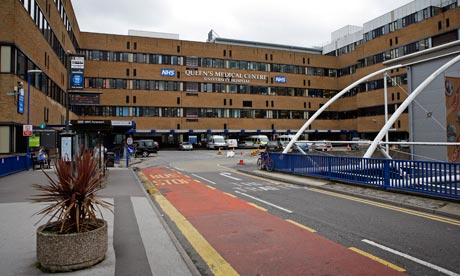 It's rare for a woman to give birth without knowing she's pregnant but I'm pleased that it was a happy surprise," Atkinson told Daily Mail UK. "It was also a lovely surprise for our team in the emergency department who were thrilled to be a part of this wonderful Christmas story…I'm delighted that Leanne and her baby are both well and happy."
Leanne's boyfriend, Scott Curwood, says he was equally "shocked" to learn that he's now a father, but he's also just as thrilled as Leanne.
While Leanne says she hadn't planned on starting a family just yet, she's smitten with her beautiful little Christmas present. And because they weren't really prepared for a family, Leanne and Scott say they are now working on finding a house together so they can all be together. Until that happens, Leanne and baby Joseph will continue to stay with Leanne's mother and grandmother.
"I didn't intend on having children for a long while yet, but I'm happy and dead excited. It's still sinking in a little bit but I'm getting there," Leanne said. "Joseph is definitely the most surprising but the best Christmas present ever. He's very quiet and quite sleepy – my mum says he's the spitting image of me. He's going to be tall; he's got massive feet and tiny little skinny legs."
Related Articles: