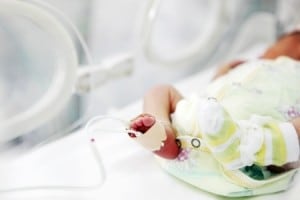 In a rare event, a baby was born at 27 weeks to a mother in Hungary, who had not shown any brain activity for many weeks. Doctors kept the mom alive for three months so that the baby boy could develop well inside her womb and be delivered. Adding to this unique birth was also the gift of vital organs, the woman left behind for four recipients.
The University of Debrecen said on Wednesday, that the healthy baby boy was born to a mother, whose brain was no longer active, this summer at the University hospital.
The mother suffered a stroke when she was 15 weeks pregnant. She was 31 years old, and to save the baby doctors decided to keep her alive to give him a fighting chance.
The baby was delivered via cesarean section at 27 weeks, weighing 1.4 kilograms (3 pounds, 1.8 ounces). Two days after the delivery some of the mother's organs — her heart, liver, kidneys and pancreas — were donated to four recipients.  The mom's name has been withheld as per Hungarian law which does not allow the organ donor's name to be revealed.
Csilla Molnár, Head of the Neurosurgery Intensive Care Unit at the University of Debrecen, said, "The relatives came three times a week from the countryside. They talked to the baby and caressed the belly of the mother."
The newborn has been released from the hospital and is now at home with his family.
"The baby is already growing up at home, with his family. He was delivered by caesarean during the summer," Béla Fülesdi, president of the Debrecen University's medical science centre, said.
Béla said that the donations were ground-breaking.
 "According to medical documents, this has never happened before – that a person could be a donor after such a long period on life support."
According to reports, eleven different medical teams worked together in the case so that five lives – including that of the baby and the organ recipients, could be saved from this one sad story.
---
[ad]