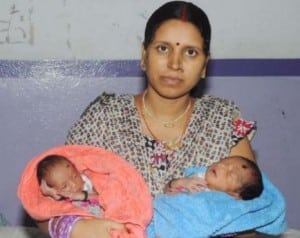 In an one-in-50million event, a mom in India with two wombs has welcomed twins.
During her pregnancy Rinku Devi believed she was carrying twins.  What she didn't know was that she had a medical condition, known as uterus didelphys, which meant that her babies were being carried in two uteruses.
During her labour, it was also discovered that Mrs Devi had conceived her sons a month apart during successive menstrual cycles.
'I got to know about having two uteruses when I was already in labour pain,' said the 28-year-old.

I didn't know how to react. I was in pain and quite scared. I had not heard of anything like this before.'
Doctors said giving birth to healthy children conceived in different ovaries is so rare that an average of one case is reported each year anywhere in the world.
The babies, who are both little boys, arrived by Caesarean surgery at the Mati Sadan Parijat nursing home in Muzaffarpur weighing 4lb 4oz and 3lb 3oz.
'I knew from her reports that she was carrying twins but when I understood the situation I was a little taken aback. I had never handled such a case before,' said Gynaecologist Dr Dipti Singh.
Congratulations to the new mom! She is very lucky to have conceived under such unique conditions.
Last year Angie Cromar was found to have the same condition as was Liz Breach in 2009.
---
[ad]