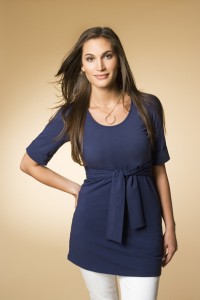 Nursing moms know how difficult it can be to find stylish tops that easily adjust to accommodate their hungry baby, while still looking chic before and after a feeding. Alas! Awkward zippered tops make way for Boob Nursing Wear's fabulous Fall/Winter 2009 collection, which allows wearers to breastfeed baby discreetly and fashionably via a subtle, double layer fabric design over the bust that may be easily moved aside.
The Swedish line was founded by a mom who wanted to create comfortable, stylish tops that would look great on women from early pregnancy through the breastfeeding stage. With the warm and cozy pieces featured in the Fall/Winter collection, moms needn't fuss with disrobing several bundled layers before being able to feed their baby on the go in cold weather. Featuring sassy dresses, sporty hooded tops, chic turtlenecks, loungewear and more, the Boob collection has every aspect of a mom-to-be or nursing mom's lifestyle covered in functional style. Classic colors and cuts make each versatile piece an instant wardrobe staple, that will last through multiple children due to their timeless nature.
The only improvement that can be made to the Boob Nursing Wear collection? The addition of the ultimate, one-of-a-kind accessory — your baby on your hip.
– Beth Shea, contributor
---